Ogdensburg International Airport
Flying into the Beauty of the Thousand Islands
Landing in a tourist mecca, passengers are greeted by a thriving and forward-thinking airport
It wasn't that long ago that most flights were grounded during the height of a pandemic that swept the US among most countries around the world causing a sharp decline in passenger numbers. That was then than this is now. For Ogdensburg International Airport, any aviation slow dows have been left behind in the jet stream.
With passenger numbers up near pre-COVID levels and an impressive list of airport upgrades to cater to a rising number of GA and commercial flights, this dynamic airport is greeting the second half of 2023 fueled with top-tier initiatives.
A lovely area to greet passengers doesn't hurt either. Ogdensburg International serves as the gateway to Ogdensburg, New York, a charming and lively town on the banks of the St. Lawrence River. Home to some of the best fishing the St. Lawrence River has to offer, there are also many attractions, museums, restaurants, and more – making it the perfect gateway to the Thousand Islands region.
The port of Ogdensburg is the only U.S. port on the St. Lawrence Seaway. The Ogdensburg–Prescott International Bridge, northeast of the city, links the United States and Canada, with a direct highway from Prescott to Ottawa, the capital of Canada.
With a storied history that goes back more than 1000 years to the Iroquois peoples, then the French, conflict with the British, the creation of America and so much more, Ogdensburg offers so much for anyone who chooses to explore – all of which is serviced by the Ogdensburg International Airport.
"We are a commercial airport," explains Charlie Garrelts, Airport Manager, "and are serviced by Contour Airline, which operates a 30-Seater Embraer 135 From non-stop service to Philadelphia – with many options to travel on from there. They operate the service three times a day with two departures and three arrivals. We also have a large ramp space for any private jet, any corporate jet, or any private aviation company, as well as general aviation. We have JetA fuel capabilities and full service, as well as self-serve Avgas."
Ogdensburg International Airport covers 500 acres and has one runway, 9/27, which is 6,400 by 150 feet in length. On top of Commercial and General Aviation traffic, they also see military traffic from nearby Fort Drum.
Mercy Flights also provides medevac transport by helicopter. The airport is about two miles southeast of the city and is owned by the Ogdensburg Bridge & Port Authority, who also own and operate the Ogdensburg–Prescott International Bridge, Port of Ogdensburg-Marine Terminal Facility, Commerce Park, Port of Waddington, a medium-heavy industrial park and two short line railroads.
The airport is mixed-use, with about half and half commercial and general aviation with Contour Airlines providing daily service to Philadelphia. There is a renovated terminal building, and several smaller buildings including T-hangars, a storage shed, and a fire hall. All of this is managed by a staff of five people. Operating as its own FBO, the airport also handles transient flights, fuel sales, and the amenities general aviation pilots have come to expect.
The runway was extended in October 2020 to its current length of 6400 feet. They can therefore handle most large corporate jets, as well as anything up to an Airbus A320 or Boeing 737. The only reason for not allowing larger planes is the fire index and rescue capability of the airport.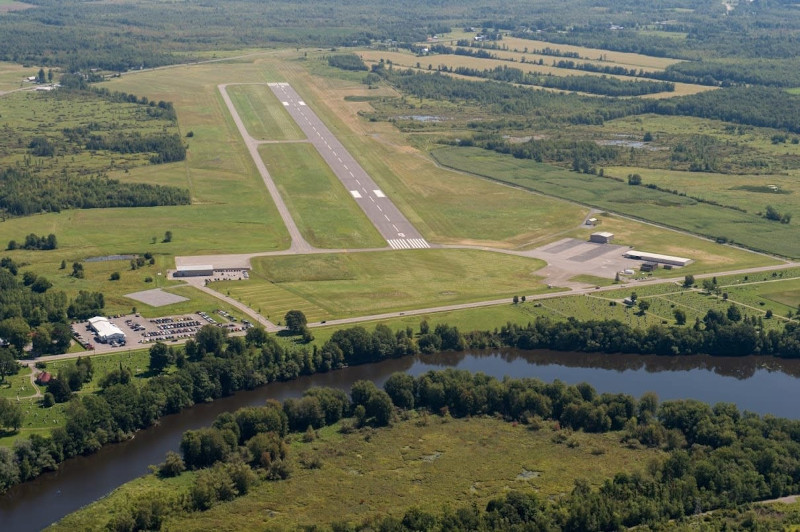 "We are working on an airport improvement plan," says Garrelts, "The first part of our plan includes creating a large community event space, what we are calling a convention center, and this will also help to improve the pick-up and drop-off area. This will be an extension to the terminal footprint. At the same time, we will be working on other terminal improvements such as a new electric vehicle charging station as the current trend is towards more electric vehicles. We also want to increase the size of our fate, our waiting area, ticket counter, and our baggage claim area. We are doing this with an eye towards expanding service as air travel becomes popular again."
"We see ourselves growing as a tourism destination," he continues, "So our number one thing is that we are situated along the beautiful St. Lawrence River, so we want to draw people in here to see the region. It's a beautiful place. Then the Thousand Islands are within an hour's drive from here, and that too is an amazing place."
"We also brush right up against Canada, it's just minutes across the bridge, and then you are only an hour's drive from Ottawa, the capital of Canada. So it's just that we're situated in this great-looking place, with amazing people, and so much to offer around here. We're currently working with Saint Lawrence County and the Chamber of Commerce to look at the tourist opportunities and how to increase them," he elaborates.
Garrelts also points out that although there are no businesses currently operating out of the airport, they are always open to commercial development. They believe in local development and are willing to put the full weight of their organization behind the right ideas. As he says, they are open for business if the right opportunity were to come along.
Although there is no flight school at Ogdensburg currently, Garrelts also sees this as an advantageous area for development, especially given the current pilot shortage.
"It is not like there will be a shortage of commercial airline pilots in the foreseeable future," he explains,
"This is a growth industry in a large sector and we need to do everything possible to encourage people to explore a career in it. There are different types of piloting jobs as well – passenger and cargo. Currently, there is a lot of interruption in passenger service due to the shortage, and that is impacting how we grow."
"As we move into the coming years," Garrelts concludes, "My number one priority is to increase the exposure of the Ogdensburg International Airport. This is an airport with a lot to offer commercial passengers, whether they be on this side of the border or across it in Canada"
"Flying from Ogdensburg to Philadelphia is easy and affordable and we want to market this as a great opportunity. If we could increase our passenger base, I would love to get a leisure carrier or two to think about charter flights from this location," he continues.
"In the past, we have had direct service to Florida for snowbirds and tourists who want to get away from winter and we would love to be able to offer this service again. So, if we could get Allegiant Air or another carrier to offer this service it could really take off. Before Covid, this was a popular service, and I think it is time to ramp it up again. If we could offer other commercial flights that would be a boon too – and each year we are seeing more enplanements and a better market," he reflects, looking ahead to the airport's clear path forward.
AT A GLANCE
A Commercial and General Aviation Airport
WHERE: Ogdensburg, NY
WEBSITE: ogsair.com