Mohave County, Arizona
A prime place
Business View Magazine interviews Tami Ursenbach, Director of the Mohave County Economic Development Department – best practices of American counties.
Mohave County, Arizona is located in the northwestern corner of the state. At 13,461 square miles, it is the 2nd largest county in Arizona, and the 5th largest in the U.S. The county consists of two sections divided by the Grand Canyon, with no direct land communication between them. The northern section, smaller and less populated, forms the western part of the Arizona Strip, bordering Utah and Nevada. The larger southern section borders Nevada and California across the Colorado River, which forms most of the county's western boundary. The southern section includes Kingman, the county seat, and other cities, as well as part of the Mojave Desert. There are 18 official wilderness areas in Mohave County that are part of the National Wilderness Preservation System, including parts of Grand Canyon National Park and Lake Mead National Recreation Area, and all of the Grand Canyon–Parashant National Monument. The Kaibab, Fort Mojave, and Hualapai Indian Reservations also lie within the County. Its population is approximately 212,000.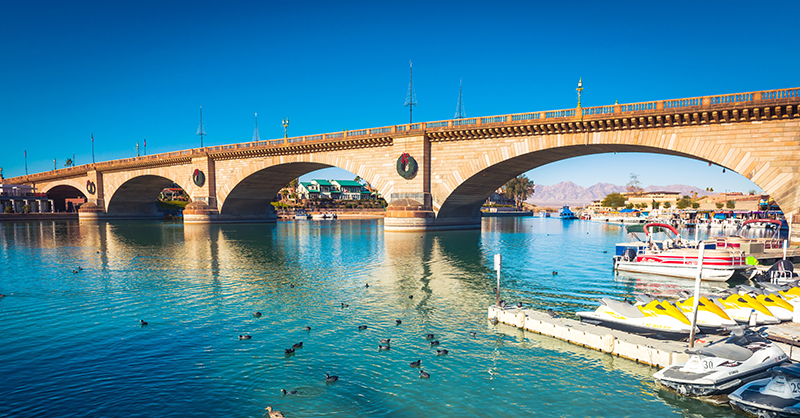 Mohave County is known for its many tourist attractions. They include: the longest drivable stretch of iconic Route 66 (approximately 115 miles); London Bridge, which was relocated to Lake Havasu in 1968; Lake Mead on the south side of Hoover Dam; several old ghost towns; multiple museums; vineyards, wineries, and breweries; and, of course, the Grand Canyon. There are numerous trail systems throughout the County that traverse rugged mountains, deep canyons, and juniper-covered hillsides. Other recreational activities include unparalleled boating opportunities on the County's many lakes and 1,000 miles of fresh water shoreline along the mighty Colorado River, horseback riding, rock climbing, mountain biking, hunting, fishing, and even scuba diving.
Business growth in Mohave County is under the purview of the Mohave County Economic Development Department (MCEDD), which provides an integrated approach of programs and services to support local business start-up and expansion, as well as the attraction of companies and industries that offer high-value jobs. Depending on the location, employment, and capital investment, incentives for businesses are available, such as: Quality Jobs, Facility, Research and Development, Sales Tax Exemption for Manufacturing, Foreign Trade Zone, and Commercial/Industrial Solar Tax Credits. In addition, the County resides within the Western Arizona Economic Development District, which has received a $1 million grant for a Revolving Loan Fund, designed to help small businesses expand.
Tami Ursenbach, Director of the MCEDD, believes that Mohave County offers businesses many reasons why they would want to set up shop there. First, there is easy access to California via Interstate 40, which travels east and west; and to Las Vegas, Nevada via State Highway 93, which travels north and south. In addition, in three or four years, Hwy. 93 will become Interstate 11, which, eventually, will go from the southern border with Mexico, all the way up to Canada, so distribution, manufacturing, transportation, logistics, and warehousing options are straightforward and available. "The interchange going from I-40 to the future I-11 won't be finished for another three or four years," Ursenbach notes. "But people are starting to realize that the infrastructure needs to be in place even before that corridor is completely built-out. We've already got several warehouse and distribution centers and manufacturing plants there. "
In addition, the County is home to three airports: Laughlin-Bullhead International Airport is in the process of opening for commercial flights and currently has thousands of people fly into the airport on charter flights; Kingman Airport is used for cargo flights; and Lake Havasu Airport has a high use for independent flights. BNSF Rail's main line goes throughout the County with additional rail spurs at dedicated areas to support use. Finally, while water is always a concern, especially in the Arizona desert, Mohave County has large aquifers, which are able to support a growing industrial base. Current top employers include Nucor Steel, Sterilite Corporation, McKee Foods, and American Woodmark Corporation.
Also, with many employment law changes and high taxes in California, many companies looking to exit the state, but still be close enough to do business there, see Mohave County as a perfect alternative. Its taxes are much lower, as are workers' wages, and there are less restrictions on doing business in Arizona, overall. And Mohave Community College is in the process of creating a manufacturing trade's center in Kingman Industrial Park, at 4,000 acres, the largest of eight industrial parks in the County, and already home to 69 businesses and over 2,000 employees.
Today, Mohave County is already the nation's alternative energy industry leader, as it offers some of the highest solar and wind power potential in America. With large tracts of available land zoned for energy projects, proximity to Western Area Power Administration transmission lines, cash grants from the U.S. Department of Energy, and experienced engineers, the County is already home to smart energy companies like ENN Mohave Energy Corporation, BP Wind Energy, and Western Wind Energy's Kingman I Wind & Solar project, the first purpose-built wind and solar project in North America.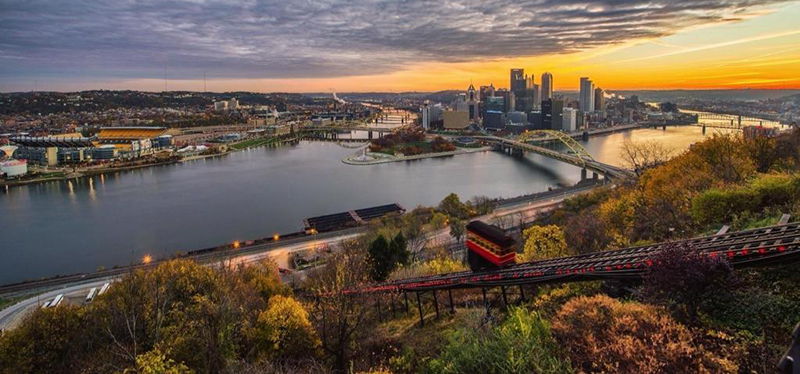 A new project in the County is a $3 billion solar venture now underway in Kingman on 717 acres off of I-40, known as The Hive, which, when complete, will generate electricity for the largest solar-powered data center in the world. Developed by Pegasus Group Holdings and an affiliate, Plus Minus Power, The Hive will generate approximately 340 megawatts, and in an unconventional twist, the project won't be housed in buildings. Instead, 350 shipping containers will house the data center's servers, routers, and other equipment, while some 16,000-plus trailers, each containing 10 solar panels, generators and storage, will encircle the containers. Because the new data center will be completely off the grid, companies that need complete security from hacking, such as cryptocurrency miners, human genome sequencers, movie studios that render 3D feature films, as well as disaster recovery and data storage services, will be able to find a suitable home there.
With its many square miles of various landscapes, lots of available industrial land, easy access to rail, air, and highway transport, a pro-business government, a ready and able workforce, multiple recreational and cultural activities, and 300-plus days of sunshine a year, Mohave County, Arizona is an prime place in which to live, work, and play.
AT A GLANCE
Mohave County, Arizona
WHAT: A county of 212,000
WHERE: In the northwestern corner of the state
WEBSITE: www.mohavecounty.us

Focus Design and Photo – www.focusdesignandphoto.com
At Focus Design and Photo, we pride ourselves in helping small businesses. While we do have a strong grasp on traditional promotional strategies, we consider ourselves an unorthodox marketing company. The struggle for businesses nowadays is in the inability to reach untapped audiences, that is where our business comes in. Our expertise involves social media management strategies, website development and animated productions. Breathe life into your dead ads with Focus Design and Photo.
Keepers of the Wild – www.keepersofthewild.org
Since 1995, Keepers of the Wild has been a top-rated non-profit organization dedicated to protecting abused, neglected, abandoned and retired captive wildlife. Visit our unique 175-acre park and take a Guided Safari Tour for a wild time you won't soon forget, while supporting a great cause.