Merced School Employees Federal Credit Union
High Touch, High Tech
Business View Magazine interviews Nancy Deavours, Pres/CEO of Merced School Employees Federal Credit Union, for our focus on California Credit Unions
The Merced School Employees Federal Credit Union (MSEFCU) was first chartered in 1954, with a total of 35 dollars invested by seven teachers in Merced County, California. Founded with the mission to provide the education workers of Merced with low interest rate loans and higher returns on their savings, the credit union quickly established itself as a cornerstone of the Merced County community.
"We have all products and services of the typical institutions," says President and CEO Nancy Deavours. "Originally membership started out with school employees and their relatives, and then expanded and took in high school Juniors and Seniors and, later, all high school students." While its earliest days may seem somewhat inauspicious for a burgeoning financial institution (their first four years, they operated out of founding manager Robert Wayne's shoe-box apartment), the credit union quickly grew and broadened its membership eligibility. From these humble beginnings, MSEFCU has grown into a robust, full-service financial institution, providing a range of products and services for their members while also offering all the technological conveniences of a big, contemporary institution.
Today, the credit union offers its services in both Merced and Mariposa County and member eligibility includes school employees of Merced and Mariposa Counties, all students in both counties, retired teachers, Merced City employees, Merced College and UC Merced students and employees, and the families of their members. Membership is far-reaching with eligibility across a broad age range, "Kindergarten to College," says Deavours. "That's all within our field of membership." And with eight brick-and-mortar branches in Merced County, the credit union can offer full service for its entire member base.
MSEFCU has developed a variety of products and services to bolster financial stability and prosperity in Merced and Mariposa. The credit union offers most products typical of the large-scale institutions, from first-time mortgages and home equity loans, to personal debt consolidation, as well as the standard savings and checking accounts. Deavours reports, "We have fifteen ATMs located throughout the community area. We offer our classic Visa Credit Card at the low rate of 10.75 APR. We offer real estate loans that don't require Private Mortgage Insurance. I'm not aware of any other financial institution in our area that offers mortgage loans without PMI. Prospective Merced homeowners are guaranteed the most efficient processing on home and auto loans with less red tape. We're the home town credit union. All of our branches are within Merced County. All the decisions are made here. There is not a corporate office where loan applications have to be sent to get final approval."
At the outset of the COVID-19 pandemic, MSEFCU continued to offer service from its brick-and-mortar branches by increasing safety measures, reducing lobby hours, and ensuring social distancing among staff and patrons. "We have been open during the entire pandemic," says Deavours. "Continuing in-person service is of the utmost importance. Before the pandemic, for some members, generally our older members, their social event any given day is to come to the credit union. If they want to come in and do business in person and want to walk out with a deposit receipt, our branches and all our employees are here to serve." The credit union has also instituted loan relief services for members who have been financially impacted by the COVID-19 pandemic, and for those experiencing lost or reduced income due to the coronavirus. Relief services include delayed payment, waiving fees, increases on a line-of-credit, or taking on a low interest loan with no payment due for 60 days.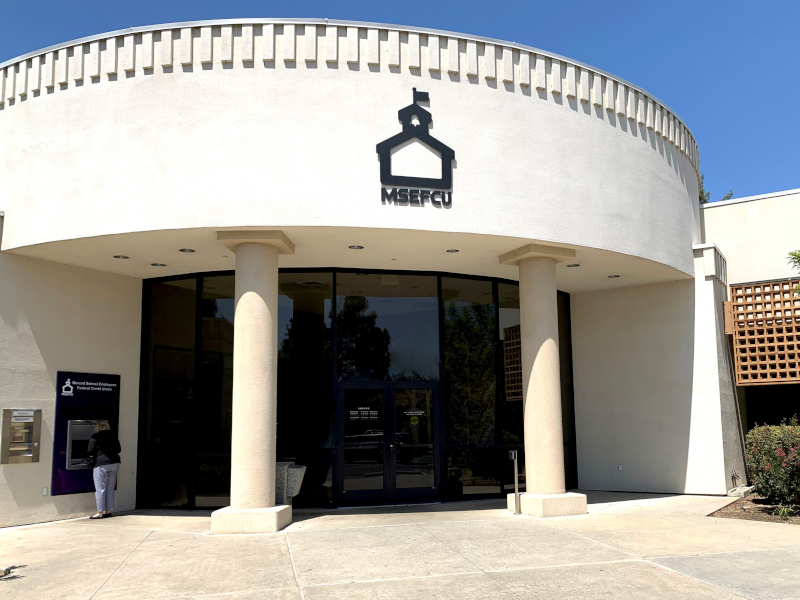 While MSEFCU delivers a personal touch with their member service, it also offers its members the same technological services as their larger competitors. During the pandemic, they've highly promoted their electronic services to make sure that members who weren't aware of them prior, or weren't using them prior, know about them. This includes online and mobile banking services. And they've instituted streamlined trouble-shooting within their mobile application and are also offering user seminars for their e-Banking service.
A commitment to education is a hallmark of the Merced School Employees Federal Credit Union. It is perhaps fitting for a credit union founded by teachers that they undertake educational programs and financial literacy initiatives. Marketing Manager Mary Robinson explains their commitment to educating their members, and particularly young people, about personal finance. "We have a dedicated employee that goes out and does Financial Literacy seminars in high schools and middle schools in our community. Prior to the pandemic we were out several times a week, doing three or four different presentations."
The credit union puts theory into practice by allowing their on-campus branches to be student-run. "We have four high school branches in Merced County," Deavours explains. "There are four students in each branch – typically Juniors and Seniors – and a supervisor from the Main Branch overseeing the transactions at those branches. We have two supervisors and a total of sixteen students, with two tellers working at a time, so we can set up new accounts for the school employee or high school student coming into the credit union." These student employees are then encouraged to pass along their financial knowledge through student-led seminars.
Plans to expand operations into a new and larger space at Los Banos are underway for the credit union. "Last year we purchased property and we are going to be building a brand new building," says Deavours. "It's going to be bigger than what we have at this point. The intent is to have a room that could be utilized by the community for meetings. We do hold various seminars but they are always held in Merced at the Main Branch in the training room. The goal is to have a room that our members on the west side of the county could enjoy and have seminars closer to them. The west side area where our branch is located is about 45 miles from the Main Branch. It would be nice to have a facility where our members could enjoy some of the things that members on this side of the county are enjoying."
It's through community-oriented initiatives that the Merced School Employees Federal Credit Union has thrived, and community is at the heart of the institution's brand. "We are a family," Deavours says. "A person spends more of their waking hours at work than they do any other place else. And so we celebrate with our families. We mourn with our families. The employees know that we're all in this together, that we will always be here for them. We have such longevity at our credit union with our employees. Every year at our annual meeting we recognize employees who are celebrating a five-year milestone. This last year we celebrated 10 employees who had worked with us anywhere from five years to 45 years. Of those ten employees, the number of years of service with the credit union was 225 years – an average of 22.5 years being a credit union employee. That speaks to the fact that MSEFCU is a great place to work. Not only do we have beautiful working conditions, we have an awesome, amazing board that stays in tune with what is going on."
To that point, the Board of Directors have instituted a program for Associate Directors which enables two members to gain experience into the processes and practices of the board before possibly being elected to the board proper. They act just like a board member; they attend board meetings, planning sessions, and outside activities. They can discuss the items that are presented at the board meeting. They just don't have a vote. But this gives them the opportunity to see how the credit union runs. If at some future time there was an opening, and the board members were in agreement, they might join. It also gives the board an opportunity to see what kind of a potential director they might be. Otherwise, it can take at least six to nine months until they really know how things function and feel comfortable.
Operating with honesty and transparency goes a long way in establishing the unique bond between the credit union and the Merced and Mariposa communities. Deavours acknowledges, "Merced is not a big town, and so when I talk about family, our members are actually family. We are so fortunate to enjoy so much member loyalty. Our members are loyal. They come to us and they keep coming back. They bring their family members to us because they know we will be here for them in the long-term. They know we are going to take care of them. We're so fortunate to have a member base that is extremely loyal to us."
Speaking to the credit union's core values, Deavours adds, "My staff knows what the values are, and we also know that we need to practice them every day. It's not just that we can recite them… You need to make sure that you're living those core values every single day when you are here and experiencing something with our members."
AT A GLANCE
Merced School Employees Federal Credit Union
What: Well established community credit union
Where: Merced County, California
Website: www.mercedschoolcu.org
NewGround – www.newground.com
NewGround is the industry thought-leader in strategy, innovative design, and project management, and has been for over 100 years. We help financial institutions and retailers master the power of their space to create the next generation workplace and retail solutions. For more information, visit NewGround at www.newground.com.
PSCU – pscu.com
PSCU, the nation's premier credit union service organization (CUSO), supports the growth of 1,500 credit unions and more than 3.8 billion transactions annually. PSCU's secure business offerings include payment solutions, risk management, digital banking, analytics, loyalty, strategic consulting and mobile platforms. Comprehensive 24/7/365 member support is delivered by PSCU's U.S. contact centers.