FST Logistics
FST Logistics provides transportation and warehousing solutions
Serving grocery chains and distribution centers across America
FST Logistics is aiming to serve the complex shipping and storage needs of today's grocery and retail brands.
The Buckeye-based company is at the forefront of America's transportation solutions. FST has the capability to warehouse and transport packaged goods in the food and beverage industry from Ohio to anywhere across America. Its Columbus location allows FST to ship to nearly half the country within a day.
FST was founded in 1991, with a vision to become a single-source logistics partner for high-growth food and grocery brands. Starting with just 11 employees, FST quickly grew the brand  through warehouse acquisitions and customer partnerships.
In 2014, the company transitioned to an Employee Stock Ownership Plan (ESOP) model to give their  employees control of FST's success. Today, employee-owners are led by a hands-on management team and board of directors. The team at FST is committed to helping customers perform at their best with advanced supply-chain technologies and unmatched temperature-controlled logistics expertise.
FST Logistics' chief administrative officer, Jill Kuhlman, and Matt Hartman, its chairman and chief executive officer, recently discussed the company. FST has more than 500 employees with very low turnover, as Kuhlman pointed out. In peer reviews, FST regularly earns a superior rating.
"FST is a full-service supply-chain logistics partner," said Hartman.
Temperature-controlled shipping is just the start. FST is a full-service partner committed to facilitating success. Its end-to-end solutions insulate clients from market fluctuations, service failures and avoidable retail compliance fees.
The FST difference
FST's team of owners know the importance of getting their customers product to the right place at the right time. With retails strict requirements, FST practices perfection at all times to mitigate costly penalties.
That's FST promise, to get your products on the shelf and in the hands of consumers in the fastest and most cost-efficient manner possible. That's why its warehousing, transportation and brokerage solutions were built to meet the rigorous demands of the retail supply chain.
FST's retail consolidation programs and temperature-controlled assets can help you successfully manage logistics spending without sacrificing speed. FST gets your products on the shelf fast while eliminating added fees and improving performance. Its full-service freight consolidation programs combine less-than-truckload (LTL) orders from multiple customers to create a single, lower-cost truckload delivery. This strategy reduces the on-again/off-again handling of your freight while lowering fuel consumption.
FST's retail consolidation programs give you a competitive advantage by ensuring full retailer compliance, exceptional service levels and reduced operating costs.
Hartman further discussed the company's three arms are warehousing, including refrigerated-storage and freezing facilities for major-brand food and beverages; the transportation of said items and their delivery to major retailers through subsidiary company FST Express; and a brokerage division that handles truckload freight and brokers it for many FST customers.
"Between the three," he said, "we're able to satisfy and be a full-service provider to our customers."
But FST's retail logistics expertise isn't the only thing making it the right fit for fast-growth brands.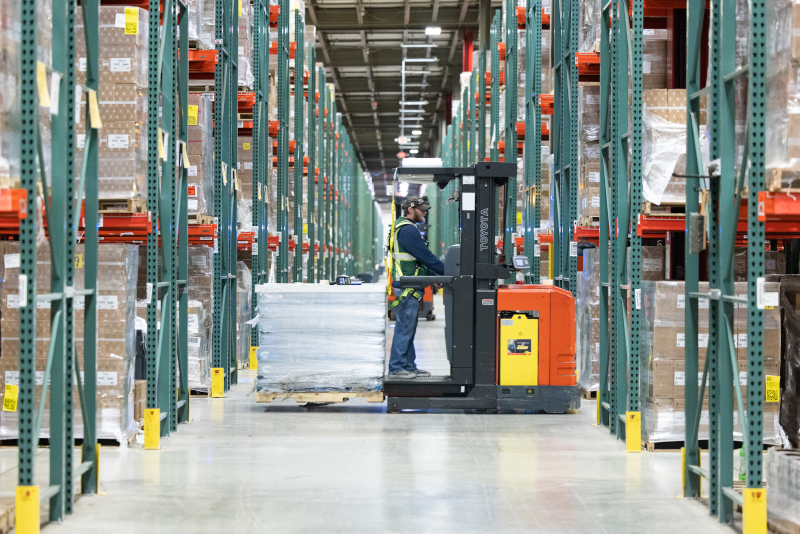 Why FST
FST's culture, single-source solutions and cold-chain experience make FST the best partner to help you meet the rigorous demands of today's complex e-commerce and grocery supply chains.
FST has the experience and expertise required to deliver your products on time and in full, eliminating fines and boosting your on-shelf availability. Its unparalleled experience in temperature-controlled warehousing and transportation has created a knowledgeable team of owners that know the ins and outs of getting their customers product where it needs to be.
Whether you're shipping full truckloads of raw material or moving pallets of finished product, FST's multimodal transportation services give you access to fast, reliable transportation across the U.S. for every move your business makes. FST can solve your short-term or long-term storage needs. It has a home for your product in its 1.4 million square feet of dry and temperature-controlled warehouse space.
Known for handling products with care, FST's food-grade warehouse services can simplify the receiving, storage and distribution for your large and small orders. The company works with brands of varying scopes and complexity, specializing in helping emerging brands scale. And it maintains exceptional levels of service, no matter the situation. This means your product will always go out the door exactly as you intended: undamaged, on time and in full.
Looking out for its employees
Kuhlman oversees FST's ESOP (or employee stock ownership plan) and its related long-term sustainability, as well as the company's 401(K) responsibilities.
"Our corporate culture is like nothing I've ever seen before," she said, praising the company's workers[ML1] .
Hartman said FST is all about delivering excellent service––quite literally.
Hartman added that the company has made major investments to improve the working conditions of its employees. He said this includes state-of-the-art, top-of-the-line trucks.
"That's their home away from home," he said, "so we want to create a great environment for them to exist in."
Investing in FST employees just makes good business sense, as Hartman observed.
Kuhlman spoke further about the company's employee stock ownership plan. The ESOP is a benefit plan that enables employees to own part or all of the company for which they work. ESOP's are most commonly used to facilitate succession planning, allowing company owners to sell their shares and transition flexibly out of the business. The implementation of an ESOP means overall positive growth for any company that opts to use such a method, as Kuhlman pointed out.
However, "it is complicated," she acknowledged, especially for people "coming on board that are 18, 20 years old, and they're not interested in retirement."
One way to encourage new employees and get them thinking about the ESOP is to offer them free stock options, as she explained. She added that FST employees own their careers.
"As we get them through orientation, we start to make that connection with 401(K) and ESOP," said Kuhlman, adding that such thinking about the future facilitates financial wellness. "When people stress about their money, it's hard for them to be successful at work."
Hartman shared Kuhlman's enthusiasm.
"I think the ESOP model is a wonderful model," he said. "I would encourage any business owners who are looking to exit their businesses and who truly care about the longevity of their brands and allowing a smooth transition to maintain the culture that they have invested in as an owner and founder."
With regard to using an ESOP, as Hartman said, business owners need to be able to step back and realize that they are now running businesses owned by their employees. The culture of a private business is very different from that of an ESOP, as he explained.
"You need to be able to share the wealth at a little higher level than you traditionally would have as a private business owner," he said, "because the risk is no longer on you, so you can't continue to operate the way you always have."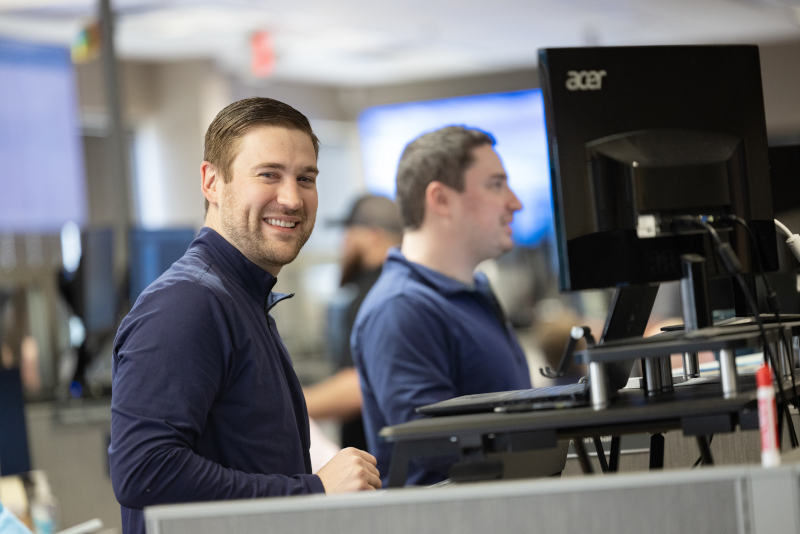 Overcoming challenges
As with any company, as Hartman pointed out, there are obstacles to be overcome.
"When I came here three and a half years ago, the company had gone through some really difficult times," he acknowledged. "And 2019 was a very challenging year for the business."
Before taking over the helm, Hartman said he had to consider certain questions, among them: was the business unique? Did it have a competitive, marketable and saleable advantage that would allow it to create a differentiation within the industry?
"And the business truly does," he said. "We have very few competitors that are able to provide the full-service offering that we do."
And then there was another important set of questions Hartman contemplated. Did FST's customers like doing business with the company? Did they like FST's employees? And did they want to continue to do business with FST Logistics? Further, were FST employees engaged, and did they truly care about the company?
The answers, as Hartman noted, were obvious. To each question, the response was a resounding "yes." He cited FST employees that have been with the company for 10, 20 and up to 25 years and more.
"It's unbelievable," he said, "the amount of people who have been committed to this business for so many years. And answering 'yes' to all of those questions created a great amount of opportunity, in my mind, to take the company to the next level. And we've been able to maintain that through all of Jill's leadership efforts and all she has done through HR and employee engagement." As you can see FST really seems to have figured out how to not only ensure their employees are taking care of, but their customers are too. They are a full-service, technology driven, employee-owned third-party logistics partner that holds themselves to the highest standard.
AT A GLANCE
FST Logistics
What: Providing top-tier transportation and warehouse solutions
Where: Columbus, Ohio
Website: www.fstlogistics.com
Fyda Freightliner Columbus – www.fydafreightliner.com
Since 1954, Fyda Freightliner has been committed to partnering with customers in the commercial vehicle industry to help them succeed. Today, the company is an award-winning, nationally recognized, full-service dealer network of Freightliner and Western Star trucks, Isuzu, Ottawa Yard Trucks, and Battle Motors. Through our unwavering commitment to excellence and core values based on honesty and integrity, we work together with our customers to provide the best service possible. The Customer is First at Fyda Freightliner. In addition to new and pre-owned truck sales, Fyda Freightliner Elite Support dealerships provide full vehicle repair and maintenance in our modern and well-equipped service departments. Together, our parts departments stock approximately $20 million in OE and aftermarket truck parts. Convenient, extended Parts and Service hours of operation ensure our availability when customers are in need. The Fyda Columbus and Pittsburgh locations offer full-service body shop repair facilities inclusive to all makes and models of trucks. We operate Elite Support Certified dealerships in Columbus, Zanesville, Cincinnati and Youngstown, Ohio; Pittsburgh and Barkeyville, Pennsylvania; and Walton, Kentucky. For more information, visit us online at www.fydafreightliner.com. Fyda Freightliner delivers the total package, and we look forward to seeing you at one of our many locations.
Minute Men HR – www.minutemenhr.com
Minute Men HR has the resources and flexibility to provide your company with the products and services needed to cost effectively manage your workforce.
With Minute Men HR your company can choose from a menu of services we provide, which includes:
Payroll processing and payroll tax administration
Workers' compensation management
Employee benefit administration
Employer-related insurance products
Unemployment claims administration
HR Consulting and Support
Our Staff of Human Resources professionals is dedicated to providing our clients with unmatched customer service at a competitive price. With Minute Men HR, your company will receive a single-source service program that is structured to your exact needs and specifications. Minute Men would also like to congratulate Matt Hartman and FST on their outstanding success!