Fayette County, Indiana
just fabulous!
Heaven in the Hoosier State
By THOMAS LARK
Associate Editor
CONNERSVILLE, IND.––It's a little slice of rural paradise.
It's Fayette County, Ind., nestled in the heart of the Hoosier State. Its county seat is Connersville, located some 66 miles from Indianapolis. With some 14,000 residents, Connersville is the largest and indeed the only incorporated city in this charming and beautifully bucolic county.
We recently spoke with Dale Strong, president of the Fayette County Commissioners, and Dan Parker, president and chief executive officer of the Fayette County Industrial Development Corporation. They told us how Connersville, known for clean water and low crime, is named for early settler John Conner, who established a trading post in the area some 220 years ago, and how the county is named for the Marquis de Lafayette (la Fayette, en français, hence the spelling of the county's name). They also talked about the area's economic movers and shakers, including the Connersville-based Stant Corporation, a recognized world leader in the design and manufacturing of vapor-management, fuel-delivery and thermal management systems, and Howden Roots, also located in Connersville, a noted manufacturer of rotary-positive displacement blowers and centrifugal compressors. The Roots brothers were famed for their creation of a type of air turbine.
Connersville, said Strong, "is a real community, much like other towns in Indiana. We are in the northern half of the Whitewater Valley. You could consider this area in the Whitewater Valley as the cradle of European civilization in this state. Around 1800, settlers first started leaving Fort Washington, which is now Cincinnati, migrating up this river. They started populating the river valley here with villages. John Conner, founder of this community, started here with a trading post between his own private enterprise and the Indian population, in 1809. In 1813, he actually plotted a town that started to grow as settlers moved west. It remained basically a rural, agricultural area till after the Civil War. And then around the turn of the century, between 1900 and 1910, the area became more industrialized. You would not know it now, but Connersville became one of the premier industrial centers in this entire region. It produced a lot of manufactured products, including automobiles, and that lasted till the 1980's." Five examples of these Connersville made automobiles are, the Auburn, Cord, Lexington, Empire and McFarlan. They can be seen in the newly acquired and remodeled Fayette County Historical Museum. The Historical Museum is located diagonally across the street from the very successful Whitewater Valley Railroad. Thousands of historic train enthusiasts travel by rail every year from Connersville to the unique historic 1830's canal town of Metamora, In.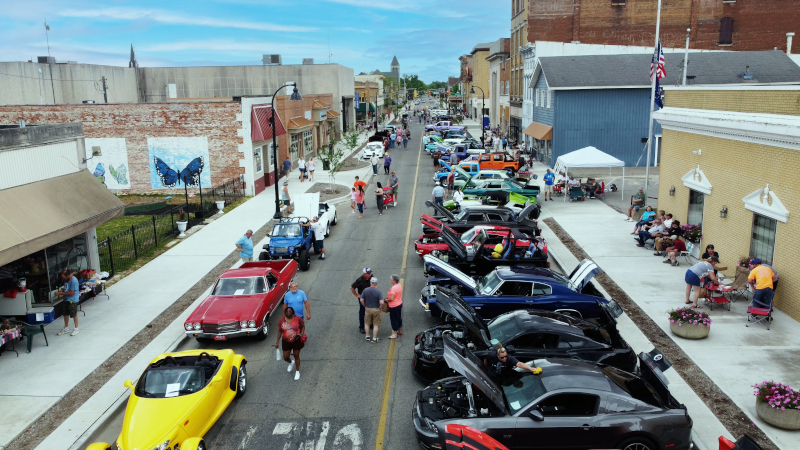 He added that the global consolidation of manufacturing plants has diminished Connersville's footprint industrial significantly.
"Originally," said Strong, "most of Connersville's industrial base was started by local entrepreneurs. As these interests got bought out by outside interests like the Ford Motor Company and others, they did not have the interest in staying in this area. We still have a couple of major manufacturing companies here, like Stant Manufacturing, which manufactures automobile parts. It started here in the 1890's and has remained here. Howden Roots started here in the late 1840's. It is still present here."
Parker spoke about growth.
"We are looking to grow in our manufacturing industry and have experienced recent growth in many areas," he said. "We are also looking to grow technologically. We want to be a part of the digital age with every Fayette County citizen enjoying digital inclusion. We are working diligently to acquire high-speed Internet for all portions of the county and in the city proper. Our goal is to install fiber-optic cable transmission lines throughout the entire county."
According to Strong, "Spectrum (the internet cable company) is in the process of laying cable to the homes in well over a third of the county. I expect Spectrum's project to be complete by the end of the year. High-speed Internet access to the rural homes is really a big deal for us. The southern half of our county is rather hilly, and it makes wireless connections hard to get. So luckily, we are getting that taken care of. We won't be satisfied until we have this service in place in all four corners of the county, so it's available everywhere you have electricity. The project we are in is very much like the rural electrification of the 1930's." Strong spoke of the county's infrastructure. According to the Federal Aviation Administration, Mettel Field is a municipal airport three miles north of Connersville's central business district. It boasts a 6500 ft X 100 ft runway and an equal length parallel distance taxiway, it has multiple ILS approaches.   It's owned by the City of Connersville and is governed by the Connersville Board of Aviation Commissioners.
An important part of that infrastructure is Reid Health, which has broke ground on a $100 million local facility for Fayette County. Reid is the largest health care provider in the region, as Strong informed.
"They have made a $100 million commitment for a new hospital facility here in Connersville," he revealed. "They had a nice groundbreaking ceremony in the fall of 2022. Their goal is to have this structure built and open for business by 2025."
"This new hospital construction will replace the 100-year-old facility which has about used up its life cycle from a number of perspectives. This new facility will be a real blessing for our county, Parker pointed out."
Green initiatives
Parker also talked about local environmentally-friendly efforts, including a solar-energy program slated to come in on the western side of the county.
"It's part of a larger program," he said, adding, "The substation for connecting to the grid is to be built in Fayette County. There will be several parcels of land that will are planned to have solar panels on the west side of Fayette County. We will be contributing to the grid that exists today when and if the solar project goes forward,"
What is Fayette County's top priority moving into the second half of 2023?
"Within the next two years," said Parker, "we want to build upon our already successful educational process. I'm talking post-secondary education. We have in our community the Ivy Tech Community College. Our goal is to help them with vocational training or some concentrated areas of unique learning that would be helpful with some of the new industries that we feel are going to move into our community. We want to enrich the educational opportunities for the Fayette County residents so they can improve their lot in life.
We want to make sure our audience knows that Fayette County is a great place to do business, to live, work and play. We are going to amplify that message more over the next couple of years. We are a Certified ACT (American College Testing)-Work-Ready Community. We are very proud of our school system and it's Whitewater Career Center, one of the best in the state, they have a great facility that pulls students from the surrounding five counties. The Whitewater Career Center is preparing and supplying new employees to some of the industries in Fayette County and surrounding counties."
Parker said Fayette County is a member of the Eastern Indiana Regional Planning Commission.
"We want to see the region do well, along with Fayette County," he said. "We want the tide to rise for all the ships in the harbor, and Fayette County is one of those ships. Our career-training and our ACT programs are helping us and the surrounding counties."
"My job is to see that we keep and maintain all the public services that local government is supposed to provide and do that as efficiently as possible," said Strong, "to try to keep taxes as low as possible and make our community as affordable and livable as possible. At the same time, we are set to accommodate any and all potential entrepreneurs and new businesses that find our area attractive. I would describe us as being open to the world––new employers and manufacturers and people like that. I think we have the facilities necessary to accommodate many sectors of the economy, our county is attractive to new employers and employees alike.
"We are a pretty, clean, rural community," he added, "with a very low crime rate and with excellent public services. It suits me to a tee. It's a nice place to live here. And we are doing our best to keep and maintain what we have."
AT A GLANCE
Fayette County, Ind.
What: Growing community with economic expansion on the horizon
Where: the rural heart of the Hoosier State
Website: www.connersvillecommunity.com (a joint City/County Website)

Reid Health Connersville Campus – www.reidhealth.org
After four years of progress in Connersville, there's more still to come from Reid Health When we at Reid Health assumed ownership of the assets of the former Fayette Regional Health System four years ago, we pledged to keep sustainable services available for our patients and families in the Connersville area. I'm pleased to be able to say we've accomplished much toward that commitment in the time since, thanks in large part to the support of the community and the staff members who joined us. But our work isn't finished yet. We continue to assess the community's healthcare needs and how we can invest in services and facilities to address those areas in the coming years. Those discussions led to the recent announcement that we will build a new $100 million state- of-the-art campus in Connersville at the former Kmart site, 2500 Park Road. The new facility will replace the current building at 1941 Virginia Ave., whose age – along with maintenance that was deferred as the previous owner experienced financial difficulties – made building a new campus the more financially sound option over renovating the current location. Since that announcement, we and our construction partners have been working with city and county officials to ensure we are taking all the proper steps to get construction started and to avoid any potential hurdles that might slow work once it begins. Regular updates about the new campus project are available on the Reid Health website at reidhealth.org/buildup. It's our plan for this project to give the community another significant reason for companies to bring jobs to the Fayette County/Connersville region. We believe it will be a catalyst that will spark other ideas within the community and be something that can serve as a springboard, creating positive momentum. Our vision as an organization is to do what we can to lead people to healthier lives and help our communities thrive, all while being a trusted partner. Our patients and their families are foremost in our thoughts. We would not be where we are today without the welcome we received in the community and its continued support over these past four years. We are incredibly grateful to have been not only accepted but embraced so quickly. Together, we can continue to accomplish great things for Connersville and the greater Fayette County area for many years to come.
Craig Kinyon, Reid Health President/CEO
Comcast – corporate.comcast.com
Comcast is a media and technology company. We connect you to the moments that matter. We deliver high-speed Internet, wireless, and video through our Xfinity and Comcast Business brands; create, distribute and stream leading entertainment, sports and news through Universal Filmed Entertainment Group, Universal Studio Group, Sky Studios, the NBC and Telemundo broadcast networks and multiple cable networks, Peacock, NBCUniversal News Group, NBC Sports, Sky News and Sky Sports; and provide memorable experiences at Universal Parks and Resorts in the United States and Asia. Visit www.comcastcorporation.com for more information.