Chaminade University of Honolulu
A community-first university
Business View Magazine interviews Dr. Lynn Babington, President of Chaminade University of Honolulu, for our focus on Workforce Education in Hawaii
While there are many educational choices around the U.S., very few strive to maintain a community-first approach and actively collaborate directly with regional-specific partners to help define and shape the educational institution's desired faculty, course content, and overall student direction.
For Dr. Lynn Babington, President of Chaminade University of Honolulu, maintaining the regional focus is paramount. "We consider ourselves a community-first university," Dr. Babington emphasizes. "We educate local students from both Hawaii and the Pacific Islands, mainly, and we work with our community to design and develop programs based on what workforce needs are, and this goes for pretty much all our programs – with our largest undergraduate programs being nursing and healthcare, and mental health professions. We are the largest educators of teachers here in the state of Hawaii."
The overarching goal is to provide an education where students will graduate and contribute to their communities. "We educate in the family spirit which certainly fits with the culture here in Hawaii and we are very culturally based in all of our programs," says Dr. Babington.
The undergraduate curriculum at Chaminade University is standardized in that all students, regardless of their chosen major, take a core set of courses that represent general education requirements that are broad-based. All students are required to take science and mathematics, history, humanities, and philosophy. The approach is designed to give a well-rounded education.
One program that Chaminade University of Honolulu is renowned for is its comprehensive data science program. According to Dr. Babington, "We have one of the only data science and visualization programs in the country and we partner with local businesses to help these businesses analyze the data and we help them make decisions. We have a large partnership throughout the country and particularly in the Pacific region to teach data science."
Chaminade University also has articulation agreements with 21 health professional graduate programs on the mainland. "Our pre-med and pre-dental students, or one of the other professions, when they complete the program here, we have agreements for example with Boston University and George Washington University where our students are actually accepted in their junior year to continue on to medical school," Dr. Babington states. She acknowledges that with the recent events that have taken place around the globe, including the COVID-19 pandemic, there has been a growing need for health, as well as mental health professionals, to help address various health-related issues. With the largest undergraduate nursing program to train registered nurses in the State of Hawaii, as well as a doctorate in nursing practice program that trains nurse practitioners, Chaminade University has the faculty and curriculum to meet the demand.
Beyond health sciences, other specific science pursuits are on hand at the university, including forensic science which is rated as one of the best programs of its kind in the country. The university also partners closely with the Texas Computing Institute and enjoys several national science foundation grants that are aimed to educate students in Hawaii and the Pacific Islands. With other partnerships involving the University of Guam and the Federated States of Micronesia, the large base of students from the Pacific Islands benefits as well. "We partner with so many different organizations," says Dr. Babington. "For example, we've partnered with the Veterans Administration (VA) for years to offer online undergraduate education to veterans. We provided this way before online education was a popular option."
Chaminade University also works with local banks and other local businesses to provide education and training to staff members as an employee benefit that those organizations provide. One of the larger partnerships that Chaminade University values is with the Kamehamaha Schools. Dr. Babington reports, "We partner to provide STEM education to Native Hawaiians and we have excellent outcomes in that area. We have educated over 100 students in the last five years that have graduated from our programs with a 100% graduation rate for Native Hawaiians."
Calling Bank of Hawaii and Central Pacific Bank, as well as Hawaii Federal State Credit Union, among its valued collaborative partners is also something that Dr. Babington is very proud of. She notes, "We also partner with the Pacific Asian Affairs Council and with the University of Hawaii to provide education and training related to the sustainable goals that are related to the environment." Chaminade University is working with its environmental partners on region-specific initiatives such as coral bleaching and clean water.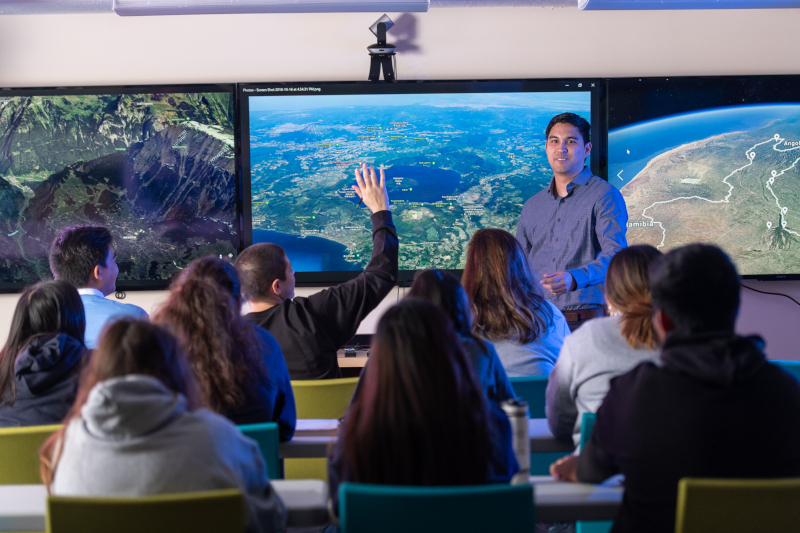 Despite the setbacks caused by a prolonged pandemic, Chaminade University was well prepared to handle the educational spinoffs, namely, the temporary transition to remote learning. "We closed from March 2020, as everyone else did, through May and then re-opened in the fall. We had both in-person and online options available for our students," Dr. Babington explains. "We had been in that online space for years, providing education to veterans and their families because we already had a lot of expertise. So, fortunately, we had already instituted over that summer before COVID hit to have every single one of our faculty nationally certified in online learning and utilized a state-of-the-art delivery system."
As the worst of the pandemic falls behind, Chaminade University of Honolulu is continuing to offer online courses at the graduate level depending on the program and some may be offered completely online such as early education, psychology, and education. Utilizing this flex model, Dr. Babington points out, is an attractive proposition for its student base.
To continue to rise above the educational competition, Chaminade University is in the advantageous position of being able to offer relatively low tuition costs and offer high financial aid. By recruiting locally at the high school level and throughout the Pacific Islands, the community feeling that Chaminade University is known for is emphasized by the students it represents. A percentage of the student body does come from other states on the mainland and tends to stem predominantly from both the East and West Coast states.
"We are very fortunate to also have a stable faculty and we have a lot of new faculty starting as our nursing and some of our mental health programs have increased," Dr. Babington says. "We are able to recruit and retain very good faculty. It helps to be in Hawaii, and the faculty engages in research which is federally funded as well as state and foundation-funded research."
Looking to the future, Dr. Babington is eager to offer her predictions and desired direction for the university. She is quick to point out that adaptability is the key to Chaminade University of Hawaii's success for years to come. "Being nimble and being prepared to meet the changing needs and always scanning the environment is important, while continuing to work with our partners to find out what their highest needs are," Dr. Babington offers. "We continue to have wonderful graduation rates and job placement rates and we are going to continue to focus on excellence in education."
AT A GLANCE
Chaminade University of Honolulu
What: A community-first university focused on workforce needs
Where: Based in Honolulu, Hawaii
Website: https://chaminade.edu/