Athens, Alabama
Northern Alabama's jewel
In the heart of Limestone County, Athens, Alabama matches its impressive growth with equal energy and excitement
Athens, Alabama is an historic community about half an hour out of Huntsville, situated not far from the Tennessee River in the far north of the Yellowhammer State. It's home to more than 25,000 good folks nowadays, and it's the county seat of Limestone County. Founded more than 200 years ago, Athens is a place in touch with its past but firmly focused on a fantastic future.
We recently spoke with Mayor Ronnie Marks, who proudly told us all about his fair city and Limestone County, both of which are among the fastest-growing communities in all of Alabama. Marks was joined by Grant Co-ordinator and communications specialist Holly Hollman of the City of Athens; Garth Lovvorn, an agent for Alfa Insurance and the president of the Athens Arts League; and Pammie Jimmar, president of the Athens-Limestone Chamber of Commerce.
"We have a lot of excitement about our city," says the mayor. "I think the energy level, the passion, and the volunteer work have created an atmosphere where people want to come here. They want to open businesses here. They see the opportunity here. It's an exciting time to live in Athens!"
Straddling two professional worlds gives Lovvorn a unique perspective.
"I work in a space that's midway between the banking industry and the construction industry," he says, "so I do progress inspections for banks. I'm self-employed, and I work for several different financial institutions. I go around and check on their residential construction sites and make sure the builders are doing what they say they're doing so that the banks can release the money. I see firsthand all of the takedowns of lots. What at one time was a cornfield or a cottonfield is now a tract-home subdivision with multiple units going up. I would say it was unprecedented, but I think it's precedent growth because we all knew that this was going to take place. It was just that it sort of happened overnight."
Marks cites new businesses in Athens, new jobs, and new opportunities, all of which increase the property value of homes. He brings up the Old Black Bear Brewing Company and Salty Cod Pub as examples of taking old buildings and renovating them.
Forty percent of Athens's general-fund budget is sales-tax revenue, which must be increased to fund the local fire, police, and sanitation departments, as Marks opines.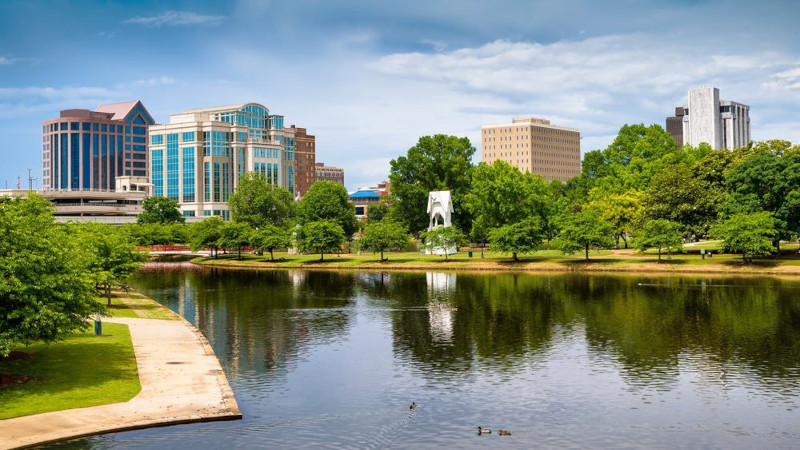 A positive vision
Hollman cites the City's vision for enhancing the lives of citizens. One way is the Easy Street Art Walk, extending from the Alabama Veterans Museum down toward Old Black Bear.
"During COVID, our recreation skyrocketed," she says, "and people want more opportunities to get out and walk and to get outdoors, so, this would be a way we can beautify an area of downtown, help promote those businesses and allow citizens and tourists to enjoy the outdoors."
The mayor explains that the "Easy Street" name derives from a historically black neighborhood that existed in this area not 100 years ago.
This was, Marks informs, a section of "predominately black-owned businesses, and to keep our historic value, we are going to Easy Street. And that's where your barbershops and other places were. They were owned and operated by African-Americans. We've lost that history. We can't find many of the old photographs and other things, so if we create this trail from the veterans museum along the CSX railroad track, part of which was Easy Street, we need to know and keep this history."
Marks continues that the City is in the process of trying to rebuild the former site of an old 32-acre chicken-processing plant and turning it into a centrally-located park. It's near Athens State University, which is one of the oldest universities in the state of Alabama.
Founded in 1822, the university began its academic life about four years after Athens was incorporated as a city. A proposed trail is slated to extend from this central park to downtown through Athens State and enhance the community, providing green space and recreational opportunities for the next generation, as the mayor explains.
"Everything we are doing spins off of passion and energy," he says. "It takes a lot of work to put on activities like this."
A passion for the arts
Hollman shares Mark's enthusiasm. She cites an arts-related business incubator, High Cotton Arts, on West Washington Street.
"I think you have to be creative," she says, "especially when you are trying to hold on to what makes you a unique city but also grow as well. I know the Chamber of Commerce works a lot with Athens State to help support entrepreneurs and small businesses. And Garth and the Athens Arts League—they renovated a building several years ago, and it's an incubator for artists because most artists couldn't afford their downtown building. This gives them a place to grow their businesses and meet with the public, to have arts-related classes and sell their artwork."
Lovvorn explains that local artists rent out booths, both large and small, at High Cotton Arts.
"Our artists are the life's blood of our organization," he says, "because they do so much."
"Most of them are retired, and they spend a lot of time there. One of the neatest things the artists do is each month, they decorate the front windows of the building. It's a pretty building, downtown right next to the railroad tracks. It's just like you wait and see what's going to be next. It is always fun to see how they will decorate the windows. Arts and artistic expression are critical elements, even when you're talking about appraising properties and things like that; how the value proposition takes place in the community. You need to look at the arts and things like that. If you consider larger cities, such as Austin, Texas, the arts are a huge component of that area, and it's one major reason why people are drawn there."
The Athens Arts League is just one part of this overall local effort, as Lovvorn explains. The league also works in close collaboration with the local tourism board and the Athens Downtown Main Street Board.
Sharing Mark's assessment, Lovvorn notes the rate of activity in Athens. It's a place where something is always going on, such as the "Concerts on the Square" musical events that bring in 3,000 to 4,000 concert attendees: something Lovvorn never would have thought possible 20 or 30 years ago.
Jimmar says she is herself an adopted Athenian, having moved there two years ago. A Georgia native, she lived in Huntsville for a decade before making the move to Athens.
"Athens is a flourishing community," she says. "We are a very unique community, and I know that's what we all love about it. I love the vibe we have here, as Garth said. One important thing is keeping that vibe and being able to attract younger people because we want our community to continue to flourish. The art boom and the music boom—these are things that attract young people here. These are things that people want: the livability of it. We have a huge art scene and also the trails we have here: the outdoor vibe. This adds hugely to the livability factor, and people are attracted to that."
Jimmar praised the City for teaming up with Athens State and receiving much grant money that facilitates the support of local entrepreneurs: budding business owners that want to expand and come out of their homes and be able to network and communicate with other owners of businesses to grow what she calls even larger "entrepreneurial ecosystems" located in Athens.
"We offer free classes for the entrepreneurs," she says of these chamber-related efforts. "We provide a plethora of classes, and they are all free."
Lovvorn says the future of Athens is a bright one indeed.
"The vibe of the community is real," he declares. " When you come to one of these events, you see it and you feel it. It's one of the reasons why I feel that Athens is a major draw right now in terms of people moving here. I've always been a big promoter of my community. I've loved being an Athenian since I was a young kid. I try to sell it every chance I get."
"When I hear someone talking about moving to Athens, I always say, 'Please do.' Why wouldn't you?"
AT A GLANCE
Athens, Alabama
Where: near Huntsville in northern Alabama
Website: www.athensalabama.us
AIDT – www.aidt.edu
The Alabama Robotics Technology Park (RTP) is a hidden gem located in Limestone County, just outside of Decatur, Alabama. The 85-acre facility opened in 2010 in response to the growing demand for robotics skills in Alabama and has since expanded into three phases, including an outdoor testing track, with room for additional growth. Each phase has a unique specialization, and continues to evolve based on the needs of the industries and clients that RTP supports. The RTP offers training in the latest robotic technology, helping to close the skills gap in this growing industry. The Robotics Technology Park's mission is to provide a technically trained, highly skilled, and educated workforce for automation and robotics, to assist public and private entities in developing new robotics systems and technologies, and to promote the creation, growth, or expansion of companies through innovative technology solutions. Focusing on Industry 4.0, which is the digitization of manufacturing, RTP 2.0 gives Alabama companies access to the newest and most updated equipment for training their employees for the "smart factory" of the future. The Alabama Robotics Technology Park is a centralized hub that connects business and industry with the world-class training needed for their employees. The park's commitment to the ever-evolving world of robotics technology continues to bring companies to north Alabama, foster economic development and build tomorrow's workforce today.