Amherst, Nova Scotia
A Hidden Gem
Business View Magazine interviews David Kogon, Mayor of Amherst, Nova Scotia, for our focus on Economic Development in Canadian Towns and Cities
Rich with history, the small maritime town of Amherst, Nova Scotia, takes a progressive approach in everything from infrastructure to tourism. Home to a spectacular collection of sandstone buildings, the atmospheric town offers a showcase of heritage treasures. Located within two hours of the provincial capital of Halifax, Amherst is also an hour from Moncton, New Brunswick, and Prince Edward Island, making it an ideal base to explore eastern Canada.
Mayor David Kogon boasts, "Amherst is a very old historical community that provides a wonderful location near the ocean, with wonderful people. It's a vibrant, not huge, town." He describes the community of 9,400 residents as the urban center for Cumberland County and the region, noting, "It's big enough to be very attractive, but not too big to be problematic. We're small enough to be a close-knit community."
Jeff Bacon, Business Development Officer and lifelong Amherst area resident, offers a picture of comfortable familiarity in a community where people care about each other. A vibrant town, with all the amenities for a great life. This attractive quality is being used in current marketing efforts, which promote Amherst as "A Hidden Gem."
Bacon explains, "It's very true that the Cumberland County area, Amherst in particular, is a hidden gem. We are really excited for this national exposure, because this will give us the recognition that we deserve. Our initiatives are to expand and grow our community from a business sense and from their services. We also are really interested in bringing a new population to our area because it expands their capabilities."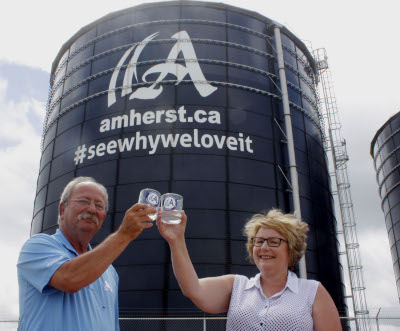 As the town attracts new residents, housing is an issue. Andrew Fisher, Director of Planning & Strategic Initiatives relates, "We are famous for our grand historic homes in the older parts of town and they've attracted a lot of people to move to the community. We have identified the expansion of residential options as a priority. There are lots ready to be built on, and opportunities for multi-unit expansion as well."
On the commercial side, Amherst has a blend of historic and contemporary architecture, with many designated heritage properties, including an old post office, which was purchased by the town and restored. "We like to do that when we can," reports CAO Jason MacDonald, describing, "Our downtown has a variety of office buildings, like Indigenous and Northern Affairs with a few hundred employees in a modern four-storey building. Around the corner is a 125-year-old clapboard home with another viable business in it with three employees. There is a beautiful mix. We have the best of both worlds."
Amherst is home to several major employers including Emmerson Packaging, Wonderbrands, a STAPLES distribution warehouse, Gordon Food Service, IMP Aerostructures and the Maritime offices of Indigenous and Northern Affairs. Smaller businesses and services make up a considerable portion of employment within the community. As MacDonald asserts, "Our hospitals and our schools and our plethora of downtown mom and pop businesses, they're not insignificant when you add them up as well."
When it comes to skills training, Amherst has the benefit of a portion of the Cumberland Campus of the Nova Scotia Community College, as well as the Amherst Regional High School. Mount Allison University is only 10 minutes away in the Town of Sackville and is another resource for workforce training. Along with ensuring a skilled workforce, supporting business at all levels is a priority. MacDonald adds, "Our local business connector, in partnership with the town and the Amherst & Area Chamber of Commerce, puts on local business educational programs for those that could benefit from additional training or ideas."
Partnering with the Municipality of the County of Cumberland, Amherst is working on a tourism strategy promoting the entire region. "From the council perspective, that's a priority," says Mayor Kogan. "We have a wonderful place for people to come and visit. It's just a question then of how to get the word out." With so much to offer, this regional marketing campaign highlights beautiful beaches on the north shore, and the Bay of Fundy with its rugged cliffs and high tides on the southern side. "So, you have one that's more typical beach and one is more adventurous," says MacDonald.
On the Fundy side, tourists can explore the Joggins Fossil Cliffs, a UNESCO World Heritage site with fossils dating 100 million years before dinosaurs. Another draw for tourists, the Wentworth Valley is a four-season attraction, with mountain trails and skiing, while the Northumberland shore boasts golf at the famous Fox Harb'r Resort, a major attraction built by Ron Joyce (former owner of Tim Hortons restaurants). To market all of this regional appeal, the tourism committee uses television ads and targeted social media advertising.
Taking inspiration from the popular blueberry and maple syrup festivals in surrounding areas, Amherst has created a French Toast Festival. Fisher shares, "Blueberries and maple syrup are pretty big in Cumberland County. We, in Amherst, are trying to piggyback on that by creating a French Toast Festival. We had local food retailers put their best spin on French toast and that was quite successful." This community festival is a celebration of local ingredients. "Not only do we have the blueberries and the maple syrup, and Wonderbrands make the bread, but we also have Maritime Pride Eggs, an egg sorting facility in Amherst," MacDonald says. "We use our raw materials, and our secondary sources of industry as well, to provide all the necessary ingredients."
While promoting the tourism side of Amherst, there is also an effort to draw new businesses and residents into the community. As for what type of niches the community is looking to fill, Bacon shares, "Anybody that's willing to build up the vibrancy in our area, no matter what they have to offer, is welcome." The possibility of replacing an aged hockey arena, with a multipurpose Community Center is on the table. Kogan adds, "That will help make us even more attractive to business and people of all ages, from retirees coming back to this area and new families starting up. That's something we're hoping to develop, if it can be done."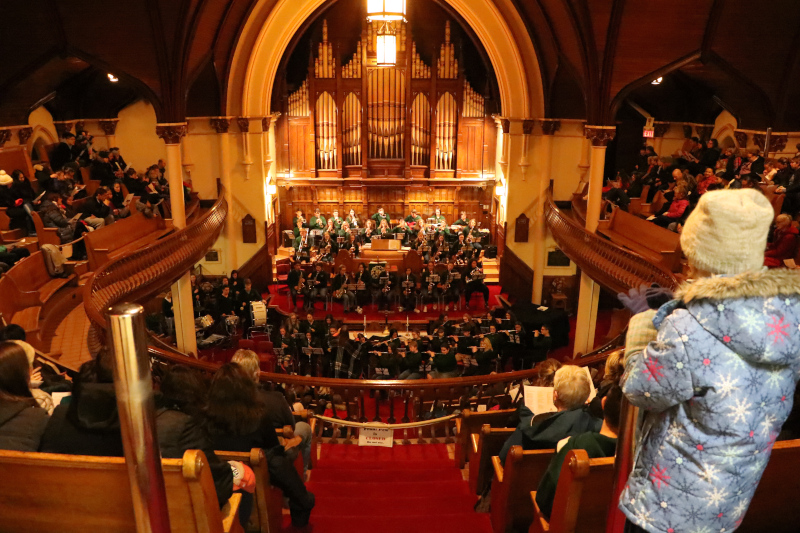 In conjunction with Nova Scotia Power, Amherst has the first community solar garden in the province of Nova Scotia. Fisher explains, "That gives Amherstonians, and the province as a whole, the option to subscribe to the solar garden rather than build their own solar panel systems on their property." Solar production systems have also been installed in Amherst on the town arena, with plans to install solar panels at the sewage treatment plant location and reservoir facility.
In other sustainability efforts, the community has been equipped with LED streetlights through a pilot program with LED Roadway Lighting, another major Amherst employer. "It's made a huge difference in our lighting, and our energy costs, and savings from greenhouse gas emissions. We're actually looking at another pilot project to go a step further and replace the lights that we installed 11 years ago with a better quality of next generation LEDs," says MacDonald. "One day you might drive down one of our roads and all the lights are out, but as you drive, they turn on, because LED Roadway Lighting are experimenting with some of their new products."
An electrification strategy is also underway to convert the Amherst fleet to electric vehicles, and the town has just purchased an electric Zamboni. "We want to make sure that we do the electrification of the fleet in an appropriate manner, so we have our bases covered. We don't want to do it haphazard," MacDonald explains.
Moving ahead, Mayor Kogon looks forward to an increase in population bringing continued vibrancy to the community. He admits, "We are not looking to have monumental growth. There's a great sense of pride in being a smaller urban center in a rural county. We want to maintain that, we want to maintain our culture, our heritage and our lifestyle, but there needs to be some growth in the business sector and in the population."
MacDonald adds, "Over the years we've looked at the switch to the green economy as an opportunity and not just as a cost. We're hoping that we will continue to be the test community for smart-grid technology going forward. We have laid some of the groundwork, but we're also lucky, given our geography, to have a really good location for wind development and solar. We're also right on the land bridge to the mainland. The ability for the grid to become smarter will require connections between regions and provinces. We are well positioned to be in the front row seat to being part of that green economy going forward."
AT A GLANCE
Amherst, Nova Scotia
What: A charming, small Maritime town; population 9,400
Where: Cumberland County, Nova Scotia
Website: www.amherst.ca