The Borough of North Arlington, New Jersey
Sources of pride
Business View Magazine interviews representatives from North Arlington, NJ, as part of our focus on best practices of American towns and cities.
North Arlington is a borough in Bergen County, New Jersey, in the northeastern part of the state, some 10 miles west of New York City. The area that became North Arlington was originally inhabited by the Leni-Lenape Native Americans, and during the 17th and early 18th centuries by Dutch immigrants, who christened the area New Barbadoes Neck. The area came under English rule in the early 1700s, and in 1715, the Schuyler Copper Mine, one of the first in North America, opened. Ore was packed in barrels and shipped to England for smelting. In 1755, the first steam engine was assembled at the mine to pump it out after a flood. North Arlington became an official borough in 1896 with a population of about 400 within its two square miles of territory. Over time, the borough was settled by new immigrants from Italy, Poland, and Ireland.
Today, North Arlington is a residential borough with a small-town atmosphere and big city neighbors. Daniel H. Pronti, the town's mayor since 2018, and a three-time member of the Borough Council, says that over the last several years, there has been a concerted effort to redevelop the town with new businesses and concepts in its industrial area, and attract new trendy businesses on its main avenues, especially Ridge Road, a state highway that bisects North Arlington down the middle. "We're very proud of what we have here in North Arlington," Pronti states. "We've taken a town that was somewhat run down, a little old and cranky, and over the past five or six years, we've turned it into what it is today, and we're continuing to strive towards making North Arlington a 'destination,' – a place where people leave their house to go and not a town that they simply drive through when they're going somewhere else."
North Arlington's population is approximately 16,000, most of whom live in the Borough's single-family homes on both sides of Ridge Road. On the East side of town sits the 208-acre Holy Cross Cemetery, which has interred almost 290,000 individuals since its establishment in 1915, and, with another Jewish cemetery including several thousand more burials, North Arlington has almost 20 times more dead people than living. "The cemetery takes up a very large portion of our town," says Pronti. "It adds to our charm, if you can imagine a cemetery adding charm, but it's very well-maintained."
"We're not trying to over-populate the town, but we are looking to target the right people that will help the success of our businesses," Pronti continues. "What we envision is attracting the younger generation into town and renting along the Ridge Road area. Once they plan on starting a family and they've already fallen in love with the borough, they will give up the rental, purchase a home here, and leave the rentals vacant for the next group of younger inhabitants to come along and start the cycle all over again. This way, you get people who know and love the area, they're already part of the community, and they're starting their families here." In order to attract new residents to the Ridge Road area, North Arlington has dedicated some of its formerly vacant storefronts to new mom-and-pop businesses as well as restaurants, reserving other sites for single-bedroom, commuter housing that does not negatively impact its schools.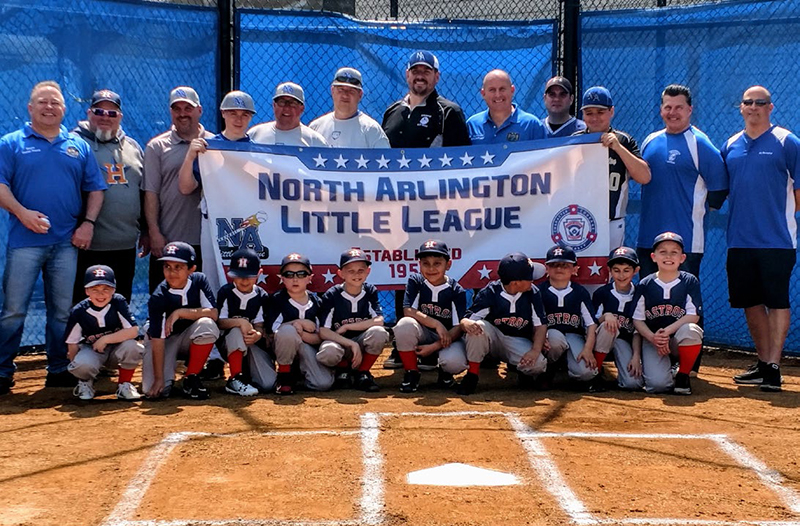 "We currently have two newer projects that are all single bedroom, commuter-targeted housing, and each one of those units has parking to accommodate one spot per bedroom," Pronti shares. "On top of that, we are planning to erect a parking garage, on Ridge Road, at our New Jersey Transit site, which would make it easier and more attractive for commuters to go to and from Manhattan, Jersey City, Newark, Harrison, etc. The newest portion of our plan is to acquire certain properties and turn them into parking, which would surely help in our residential zones. Parking is a tricky thing; we've had many discussions on it, and we believe that we have a few solutions."
Borough Council President, Mario Karcic, believes that North Arlington is a perfect "destination" for new residents who are likely to commute to other places for work. "We are in an ideal place, geographically," he asserts. "From our main street, you can catch a bus and five minutes north takes you to Rutherford, where you can catch trains into the city (New York). If you go a couple of minutes south, it takes you into Harrison, where you can catch the PATH (Port Authority Trans-Hudson rapid transit system), or you can go to Newark and take a train to anywhere. So, we're really right in the middle of all the transportation hubs and it's what makes us an ideal destination."
Meanwhile, in the southeastern part of the Borough, off of Porete Avenue, industrial redevelopment has been sprouting ever since Federal Express built a new hub there in 2017. "It's right off of the Belleville Turnpike with easy access onto the New Jersey Turnpike, which is what they were looking for," says Karcic. "And all of a sudden, people are paying attention to that area, seeing that the land was developable. FedEx kickstarted all that by bringing more attention to that area. So, we've got the industrial park, in which we're attracting large businesses, while our Ridge Road district is, primarily, small businesses – a lot of them local. There are variety of eateries all in the Ridge Road district: Asian, Italian, Columbian, Mexican, Indian, Portuguese, Greek and Brazilian – all small mom-and-pop businesses."
Pronti says that the industrial district is a good location for trucking and warehousing. "The area was completely depleted for 20 years," he reports. "Slowly, there were a few signs of life. Most recently, we hired a group to come in to redevelop it; they have big plans to make that a warehouse hub for trucking and storage. And our main goal is to keep the trucks in that area without interfering with our residential area. We have quite a few projects on the horizon that are going to re-route roads to keep the congestion to a minimum, while increasing our tax revenue. And we've been successful in doing that. Over the past four years, our municipal taxes have shown a zero percent increase for our homeowners. We were able to do that by attracting the right businesses into town."
North Arlington is also paying attention to its infrastructure needs. "The local water company and gas companies are redoing many of the service lines into the homes," Pronti says. "That is an upgrade that they are paying for. We have temporarily suspended our road paving projects around that work, so we didn't have our newly-paved roads being torn up by the utility companies. This autumn, we will begin our paving, so we will be seeing much better roadways and much less reason to dig them up, afterward."
In addition, the Borough has a tree planting program that Pronti says was established as a response to the devastation of its tree canopy over the last several years due to hurricanes. "We suffered the loss of much or our greenery in town," he notes, "and we also had previous administrations that would cut down trees and allow people to pave in front of their houses. We've taken many strides to change that approach; we planted over 500 trees in the past five years in our town. Unfortunately, we lost a few earlier this year, when we endured a windstorm and lost 22 trees. We do have plans to replace them, as well and that's a big part of our green initiative. We are also looking to put more trees along our riverfront. on the west side of town (on the Passaic River) and we're talking to developers to entice them to donate trees as they develop in our town."
Mayor Pronti also points to the Borough's recreation fields as a source of community pride. "Back in 2013, when I was new on the Council, my very first project I set out to accomplish was to overhaul and have lights installed on our soccer field. We had a field that was in a flood prone area and was becoming worn out," he recounts. "Many days were lost to the weather and lights would have given our young athletes more playing time. The administration that was in place, back then, frowned on my project. I was frustrated, but as the years progressed, I continued to make it one of my priorities. Since Council President Karcic came on the Council, we've worked together on enhancements of all of our recreation facilities. Since that time, we not only lit up our soccer field, allowing for night-time use, but we put a state-of-the-art, synthetic turf on our soccer field, our softball field, and our Little League field. Years ago, we were barely able to use our fields and facilities and now the kids are proud to show other teams that come here what a great facility we have. We no longer have fields that umpires deem unsafe. So, it really makes a big difference."
Karcic adds, "Our businesses are very active in the community events, and the recreational sports leagues. It's good PR for them, because when there's the name of a new pizza place on a softball jersey, people are going to flock there; people in our town support the businesses that support the town."
Borough Administrator Steve Loiacono is also proud of North Arlington's financial stability and how it has come about. "The Mayor just went over lighting and turf, which, in total, cost us about $4 million," he reports "And we're doing more paving than was ever done before; we've revamped our DPW fleet; our police department has all the latest and greatest equipment; and we've done all this without raising municipal taxes for the last four years, which is unheard of in most communities. That certainly makes the town attractive to potential homeowners and businesspeople. And the attraction of businesses is one thing that is making that possible."
"We pride ourselves on our community atmosphere," Pronti says in conclusion, "and our ability to relate to the people who live here. We're very transparent and we respond to our community. We have many community events; we have quite a few holiday celebrations, and we listen to the requests that our residents make. I think that is very important when you are running a community. Especially one that you want to be successful for a long time."
AT A GLANCE
The Borough of North Arlington, New Jersey
WHAT: A borough of 16,000
WHERE: Northeastern New Jersey, west of New York City
WEBSITE: www.northarlington.org