Sigora Home
A specialty provider in solar home tech shining beyond the competition
In the face of global climate change, many homeowners are seeing its effects on their wallets, with soaring energy prices and sometimes prolonged outages from more and more common natural disasters cropping up all over the nation. For many, solar power is an attractive alternative to being at the mercy of the local utility company.
Sigora Home is one of the leading residential renewable energy companies in the United States and provides wrap-around, life-long services to customers who want to break free from total reliance on mass-produced energy.
With its Produce and Reduce package bundling every aspect of home energy efficiency, like attic insulation and attractive options like Testa changing walls, the package provides homeowners with the ability to improve their home's energy consumption and have a more self-sufficient power source in the event the local utility fails.
Sigora Home CEO Logan Landry says, "we pride ourselves on selling the highest quality solar systems. We use only high-efficiency modules, enphase micro inverters, which from an industry perspective is understood to be the best option available and then we bundle it with these additional products and services. What we found in the past is solar is technology driven – it's new, it's exciting, as are other things, like electric vehicles and therefore electrical vehicle chargers, which we also, of course, sell along with batteries – these things are exciting to homeowners whereas a lot of energy efficiency improvements are not as exciting but are equally impactful, and beneficial, and needed."
Andy Bindea, a young Romanian immigrant founded Sigora Solar in 2011 with very little to his name. Bindea with his used Honda civic, a 40' ladder, and a lot of grit, know-how, and belief in the freedom and benefits solar energy could bring to homeowners started installing state-of-the-art systems in Waynesboro, Virginia. In 2016 he wanted to grow the company so more people could enjoy the benefits of solar power and Landry joined the team. Together they have grown to serve 14 states across the Mid-Atlantic and Midwest, including California, North, and South Carolina. They have office locations in Charlottesville, Richmond, and Staunton, Virginia as well as Los Angeles, California.
Sigora has racked up many accolades that reinforce the company's commitment to its products, and their results and helps drive its growth. Sigora was named the number 1 solar installation company in Virginia and was also ranked the 15th top rooftop contractor in the Nation. It's also been named the most forward-thinking company in the nation.
The company's vision to empower people and communities through energy and technology services to bring a sustainable and equitable energy economy through its unique Produce And Reduce package has been saving homeowners and business owners thousands of dollars on energy bills and creating a positive difference. Landry knows that "bundling of services that incorporate an energy efficiency audit of the home of clients with solar helps us conceptually, not fill a tank when you know it has holes in it.
The concept is to then bundle that with additional benefits along the way like Pearl certification. This guarantees a homeowner an increase in home value on their next appraisal when they have a Pearl certification, which is a result of energy efficiency improvements and our renewable energy solar installation then of course we offer very aggressive financing that allows most homeowners that qualify for the financing to just essentially utilize the Produce and Reduce package as utility replacement.
"To take out a piece or up to all of your electric bill and replace it with a monthly payment, that in most cases is equal to or less than the utility payment that is being replaced; and then that's a fixed payment, whereas utility payments are not. They rarely, if ever, decrease. They continually increase year over, year over, year,"Landry notes.
They do this by utilizing proprietary software and technology and maintaining a lifelong relationship with each customer building trust through the results customers get and strong communication with Sigora's representatives.
Throughout the pandemic, the company has run into many of the same struggles as others, including difficulty recruiting and retaining employees, but Landry says it's leveling off now and most people return to the workforce. Currently, the company has about 220 employees and works hard to maintain annual wage increases and continues to offer 401K matching, and paid vacations they've managed not to resort to mass layoffs during uncertainty amid the COVID-19 lockdowns. They promote from inside the company and offer training opportunities while compensating people for their commitment to professional development.
Landry also says employee retention is made easier because "we've got a great culture and I'm sure that our staffing challenges have been far less significant than many of the other stories I've heard around the industry where that level of culture is not prevalent."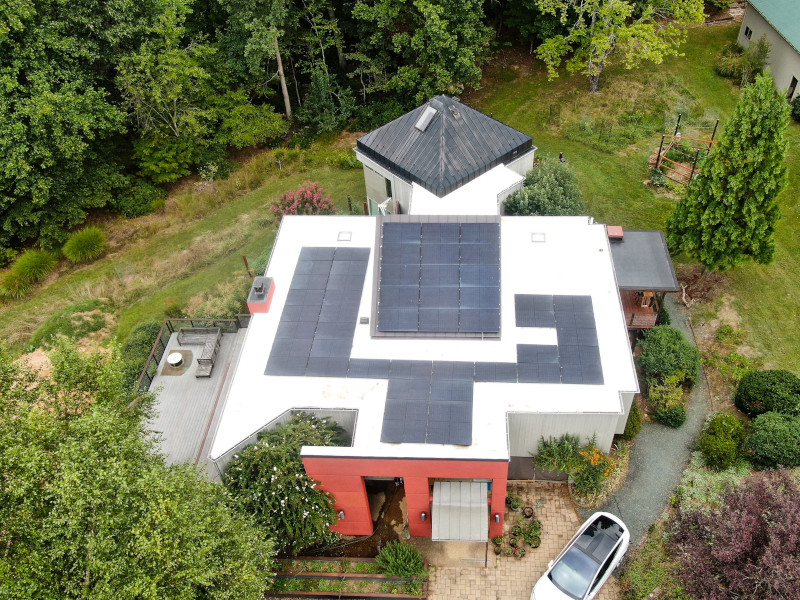 "Culture and loyalty play a huge role for the company and they saw the benefits of that while the rest of the world saw supply chain issues, Sigora was hardly affected," Landry says, "We've been very fortunate to not have any disruptions in supply. We have some very consistent and long-standing relationships with manufacturers and distributors so our supply has been for the most part uninterrupted."
"There was a small period of time where battery supply was a bit challenging; we were still receiving supply, but not in the quantity that we needed it and just making those installation timelines longer in that case, " Landry recounts. " But outside of that, we haven't had any supply issues. What we have seen though, is pretty significant cost increases on materials as a result of the raw goods, silicone is probably the most dramatic but certainly aluminum and steel, and then, of course, shipping costs are dramatically increased as a result of fuel prices and labor shortages." he elaborates.
Sigora Home is strictly focused on residential energy solutions and recently moved to offer wrap-around services that include roof installations, and Landry says, "We work closely with municipal utilities, we kind of have to, obviously, for interconnection purposes. The application process and all of that of course we handle for the homeowners."
At one point the federal government stopped offering incentives for homeowners to make the move to solar, but Landry said Sigora didn't see a large reduction in business, and now that the government is offering 30 percent and sometimes higher rebates business is booming,
"For us, it's been great in every market that we serve, even with the very temporary sunsetting of the federal tax credit2, the ITC really, this business for us and for most of the industry that I know didn't slow. I think overall you had probably more disruption on the CNI utility scale but on the residential front, business continued to boom," Landry outlines.
"Now, maybe growth rates were less, but the growth rates were still stronger than I presume in most industries. now since the IRA has passed and the tax credits are renewed to 30 percent and locked in for 10 years in some cases even more than 30 percent if you meet certain requirements, live in low to moderate-income households, and use American-made products in the system. There are ways to even go beyond that 30 percent tax credit and then that coupled with all the energy efficiency components, the industry is going to do pretty massive growth continuing forward for sure," he determines.
While technology continues to advance the efficiency of solar use and collection, battery storage, and more, Sigora works to educate potential clients on its benefits with digital marketing and door-to-door sales to hit the segment of the market that just doesn't engage online, but could still benefit from potentially ditching their utility bill.
They work very closely with REC, who Landry says are preferred and exclusive partners for solar panels, and they are "known throughout the industry as one of the best warranties and the highest efficiency, so certainly premium standard." They use Enphase exclusively for microinverters as well as their financial partner, Mosaic.
In the future, Sigora hopes to stay at the forefront of technology and to continue offering energy efficiency options to homeowners both packaged and stand-alone as well as HVAC services. Landry says, "it's also incredibly important that homeowners know that they have a trusted contractor in Sigora. If they have trusted us to essentially build a power plant on their roof they don't have to worry about who they can trust for reroofing in the future, or HVAC, or insulation in their attic. or EV charging, or whatever additional needs they might have, especially if they are a solar customer because we already have a 25-year relationship based on their warranties."
AT A GLANCE
Sigora Home
What: One of the leading residential renewable energy companies in the United States
Where: Branches throughout the midwest
Website: https://sigorasolar.com/
Capital Electric – capitalelectricsupply.com
Capital Electric provides electrical products, lighting, and services to contractors, builders, and end-users. Our mission is to be The Electrical Distributor of ChoiceTM for all your electrical needs, including time labor saving solutions, industry relevant training and education, and mobile/web order solutions.
We have over 70 locations on the east coast from Pennsylvania to Georgia. We currently have a 220,000 square foot headquarters and Central Distribution Center in Upper Marlboro, MD, with plans on building a new 362,880 square foot Central Distribution Center across the street. Visit one of our store counter locations to explore our wide selection of electrical products from trusted manufacturers.
At Capital, our solar services allow you to use best in class solar products to create an energy-efficient environment. We are dedicated to staying on top of the latest trends in solar installations for commercial and residential applications, and we pride ourselves in being a one-stop-shop for our solar contractors. Our customers can rely on us to provide them the right product and service so they can get the job done right and on time.
For more information, please visit our website: