Pullman Moscow Regional Airport
collaboration and forward-thinking land the airport on top
Two communities with one purpose, Pullman-Moscow Regional Airport flies towards a bright future
Pullman–Moscow Regional Airport (PUW) is in Whitman County, Washington, two miles east of Pullman, Washington, and four miles west of Moscow, Idaho. These are, respectively, the homes of Washington State University and the University of Idaho. Knowing this makes the beginnings of the airport a little more believable.
In 1932, three things came together to move folks beyond landing in the alfalfa fields. Members of the Reserve Officers Training Corps (ROTC) at the State College, the legion, and the chamber of commerce all became concerned about National Defense. Secondly, people really wanted an airport. Third and perhaps most importantly, there was a record crowd coming to the Washington State, California 1932 Football championship. One could honestly say that they built the airport for a football game.
1932 was a long time ago, but football, as well as all university sports travel, from the two leading state universities just miles apart, accounts for much of the corporate travel at Pullman-Moscow Regional Airport. Today the airport covers an area of 1,011 acres with one asphalt paved runway designated 5/23, which measures 7,101 by 150 feet.
"I started here in 2011," explains Tony Bean, Airport Executive Director, "under a fleet transition by Alaska Airlines from a 32-seat Dash 8 to the76-seat Q400. . Our  runway to taxiway separation was too close together for that size of aircraft and the FAA came to both Cities with the choice of meeting standards for the new aircraft with federal assistance requiring local matching funds or losing our air service to the region. And so, $158 million later, we have just closed the books on a full runway realignment program."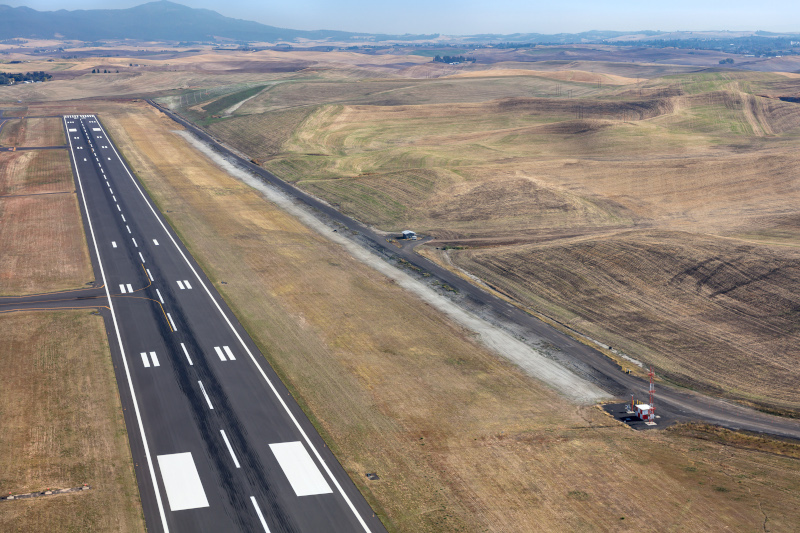 Because of the natural geography, a series of low rolling hills create a region known as The Palouse which limits available land. Back in the 30s the area was a creek bed that was fairly flat amongst  the hills and built a runway – but making it larger was virtually impossible. The decision was made to completely reconfigure the property and move the runway. Which turned out to be quite extensive.
"We ended up creating the largest wetland mitigation area in Eastern Washington," Bean says. We moved 8,000,000 cubic yards of earth within our property and moved the creek entirely underground. Not to mention rerouting transmission lines, recreating flood plains  and the land acquisitions required. The environmental studies alone took a couple of years and cost us over three million. All this while working with two cities, two universities, and even two states. As you can imagine, that has been the focus of all the work for several years. But at the same time, we knew we were going to have some other problems once the runway was constructed, like our terminal building. Our existing terminal building is slightly over 8,000 square feet. FAA forecasts show a need for at least 45,000 square feet, and that is a substantial difference. When we began the project, we had 32,000 enplanements a year and now we are at 72,000. We have essentially doubled our commercial traffic in a decade, simply with Alaska Airlines service to Seattle and the addition of a Boise direct."
To address the needs of each constituent, the airport sat down with a large advisory commission to look at what the design and makeup of a new terminal should be. The previous terminal was entirely built for functionality and had no real personality – but knowing this would be the first stop for tourists, university residents, visiting sports teams and so much more, a reflection of who or what this region offered would go a long way.
There was the obvious challenge of gates for larger aircraft, and creating space in the terminal for baggage, but then there was the topography and the fact that the terminal would now be on an entirely different footprint. A new parking lot and a new apron would need to be included and the current budget projection is for  an $84 million construction project of the terminal, new parking lots, and aircraft aprons with deicing collection.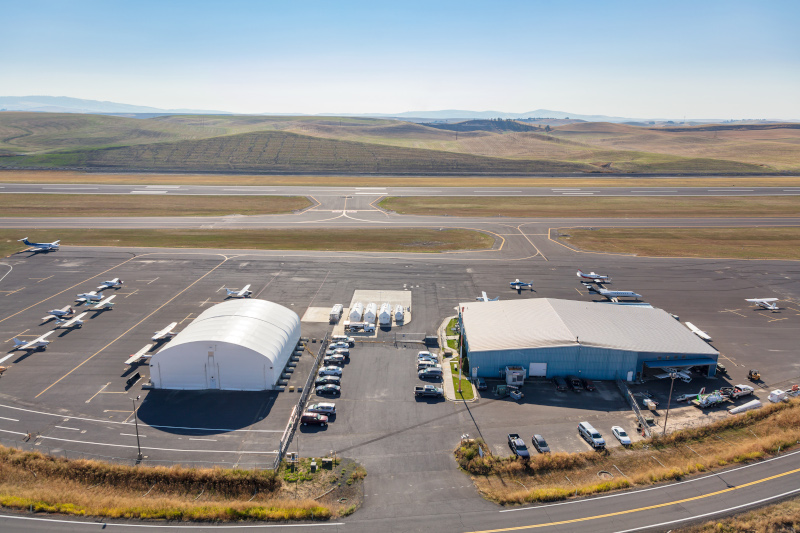 "At the same time, we have never had to shut down the airport, because both the runway and the terminal were constructed in different locations than they previously occupied – we could just use the old one until the new one was complete. And the new terminal is coming up out of the ground as we speak. An interesting feature about it is that the terminal was designed to fit into the Palouse, the rolling hills, and so the shape of the building is nestled into a flat spot with roofing that curves with the hills. We wanted to create a building that was functional but also captured a feeling. The colors and design all echo the landscape for which we are famous."
When it comes to the day-to-day operations of a General Aviation Airport the FBO is Interstate Aviation – which has managed to cope with the changes. The FBO buildings, aprons, and taxiways have all been moved over the last fifteen years, however, their capacity and facilities have all been improved and they have seen growth as well. The FBO also offers flight training, but more on a private pilot level. The largest tenant on the field would be Schweitzer Engineering Laboratories which has its corporate flight headquarters at Pullman-Moscow Regional Airport.
"We have always had a collaborative relationship with all of the people involved with the airport," Bean explains.
"With the universities and the cities and the counties, there's a huge collaborative feel here. What one can't do, they reach across the border and then two of them can definitely do. That's the way the airport was started, one city couldn't do it by itself, so both agreed to a partnership. And they've worked that way since the 1930s. That's the way this was built organically. And it's continued up to today. If you're the mayor of either town, you are the chair or the vice chair of the airport board. So our mayors run the airport. We also work with the chambers of commerce in each city as well as the tourist boards to promote the area."
"Looking forward," he concludes, "it's going to be all about finishing up the terminal building and moving; Then in 2024, it's going to be looking at what availability the airport has to grow into the future. So, we'll do a planning phase and look at private hanger and business capabilities and what to do with the existing commercial site that we have. We will be looking at moving fire stations, and snow removal equipment, trying to consolidate that and relocate the existing facilities where they won't impact the aviation side. We have begun to shift things around and create more usable space, and we want to continue that because we have some attractive real estate."
In conclusion he states, "We were smart about putting the terminal where we did when we moved it, we put it on one end of the runway so we could develop the remainder of the airport. Now we want to be smart about future development and moving things forward. We would also welcome talks with more commercial carriers and to try and get more routes. If we had Denver service, which we do have a Small Community Air Service grant to help fund, then we would be offering flights both East and West.
AT A GLANCE
Pullman Moscow Regional Airport
WHAT: A growing commercial and general aviation airport
WHERE: a few miles between the cities of Pullman, Washington, and Moscow, Idaho
WEBSITE: http://www.flypuw.com/
Moscow Chamber of Commerce & Visitors Center – www.visitmoscowid.com
Moscow is an ideal conference and meeting destination. We offer big city amenities and small-town charm. Whether your meeting is for 20 or 2000 people, Moscow has the right venue for you.
Moscow makes meetings active! Head out to get some fresh air on one of our many hiking or biking trails. Take in a round of golf at one of our local golf courses. We've got several places in town that rent equipment, making it easy for you to get outdoors. If retail therapy is more your style, hit up the eclectic boutiques on Main Street, as well as Moscow's award-winning Farmers Market.
Moscow makes meetings Unique! Downtown Main Street is filled with charming boutiques, art galleries, coffee shops, and fine dining featuring locally sourced food. Moscow also has several local breweries and regional wineries that feature locally grown artisan grains.
Moscow makes meetings accessible! Our airport offers direct daily flights from Boise and Seattle. Moscow is Idaho's most walkable city, from the beautiful campus at the University of Idaho, to the tree-lined streets of downtown Moscow, and the biking and walking paths that connect the heart of the city to the communities beyond.