Portales, New Mexico
Gateway to the good life
Business View Magazine interviews Sarah Austin, City Manager of Portales, New Mexico, for our focus on Economic Growth & Development in U.S. Cities
In a time when people seem so divided in their ideologies, and often angry with the world, Portales, New Mexico offers an place for the weary to rest and enjoy a friendly and peaceful atmosphere. A haven of family-friendly parks, growing businesses, diverse housing stock and, above all, a community full of people that care about each other. It truly is the gateway to a good life.
City Manager Sarah Austin moved to Portales less than a year ago, but when she and her children arrived, they felt like they had come home. She couldn't believe how many amenities and benefits the smaller city had, but says, "One of the biggest things for me, was the kindness from strangers. It's a very kind place to be. We don't have fancy mountains, lakes, or bodies of water, but we have a wonderful community of very friendly people. Business owners support business owners. They support new growth and it's just a really nice place to be."
The city of just over 12,000 residents is located on the Eastern Plains of New Mexico, about 19 miles from Clovis, which is the closest urban centre. The county seat of Roosevelt County, Portales combines a rural atmosphere with premier cultural, economic, and educational opportunities. It is also blessed with a historic Spanish-style town square and courthouse, a multi-million dollar agricultural industry, and the fourth largest university in the state. Austin believes the town is a hidden gem and wants to share it with the world, by having tourists visit, families relocate, and businesses join the peaceful, supportive local economy – one that is poised for growth opportunities in so many markets. She shares, "We have beautiful trees, historical buildings… tourist-wise we have some wonderful museums, our Eastern New Mexico University is out here and that is a very beautiful campus."
Currently, the area surrounding the city boasts more than 40 dairy farms and processing facilities that supply a vast market with a diverse range of products and it's one of the country's largest producers of Valencia peanuts, organic peanut butter, and other peanut products.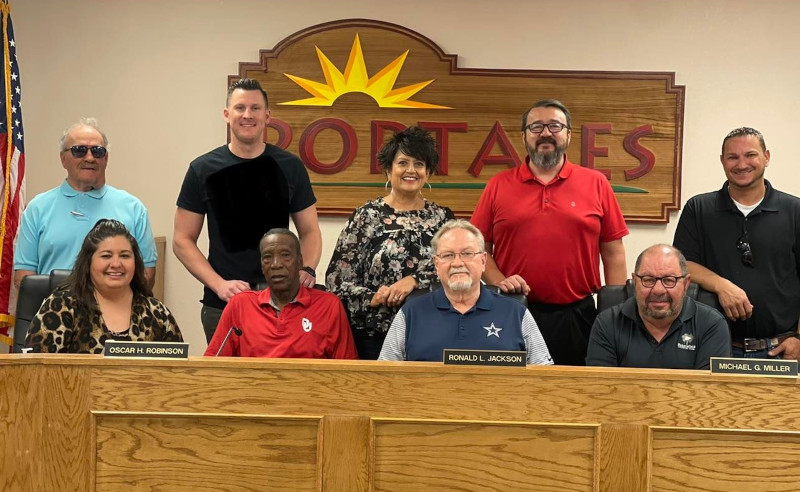 Portales also boasts an affordable cost of living, similar to more northern cities, but offers what Austin says are amazingly supportive and academically strong schools with an effective and efficient administration. She reports, " The teachers are well-educated and care about their students. They offer a full range of extra-curricular activities for every students' interests and have a high standing in the state, when it comes to placing in competitions." Austin's two children have blossomed in those schools and she can't imagine them anywhere else. "They really are enjoying being there," she adds, "We are fortunate enough to not be struggling to find teachers through this pandemic because our superintendent, Johnny Cain, has done an amazing job of taking care of the staff and his school district."
Austin's eldest daughter enjoys the atmosphere in the town so much that when she graduates next year, she's chosen to attend Eastern New Mexico University. In fact, many students choose to stay in Portales and usually take on positions at the city, the university, Cannon Air Force Base (just 11 miles from the city), or they start their own business.
From a residential aspect, the city has a large housing stock with prices comparable to the surrounding area. There are three developers now building homes in Portales with apartments in the works, a housing district being built, and eight new detached houses under construction. Another developer is seeking permits for four more homes.
In other good news, Bruce and Tabitha Nixon are very close to opening The Portales Fun Center. The city offered up its former recreation center, which closed during the pandemic, to house the entertainment facility. It will offer families and people of all ages many opportunities for enjoyment, laughs, and respite with its virtual golf and multi-sport area, 14-lane bowling alley, a skating rink, arcade, pool tables, shuffleboard, and Dickey's Barbecue restaurant. The Nixons plan to open the more than $2 million facility in the fall, and soon after will install a patio for the restaurant and axe-throwing facilities. The center was made possible with a $270,000 grant from the Local Economic Development Act (LEDA) through the Roosevelt County Economic Development Centre.
Austin acknowledges, "We don't have a lot of options for youth, so that's what's promising about this. We need more fun and we need more kindness and, again, that's why I really love the community because people are very, very kind. Strangers hold the doors open for people, they are always willing to step in when families need it and it's really a great place to be." The city's skate park was part of the sale of the property and they'll look to create another in the near future, probably in a park with their mile-long paved trail. They plan to add lighting to the trail and will open their redeveloped community pool this year.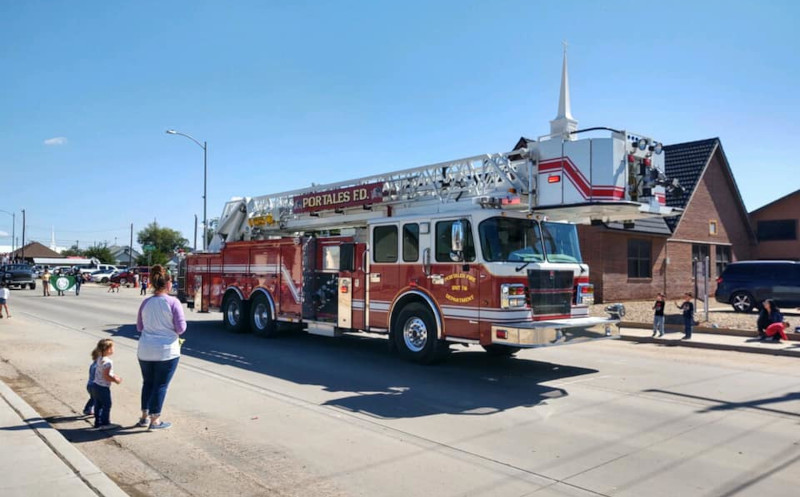 One of the largest employers for the area is the Roosevelt General Hospital – the city just annexed its more than 36-acre property into the town and opted to zone those lands commercial to build the medical industry in Portales. The hospital has applied for a LEDA grant to help it create more, and updated, infrastructure, which was a benefit to the city because they were able to put a main waterline in to service the hospital and residents in the area. There is also a healthcare clinic, and the university offers medical services to students and the community, as well.
Another industry poised to take off in the city is the cannabis sector. With cannabis set to get federal legalization, the city has seven applications for retail outlets, growers, and other related businesses. Austin says being only one mile from the Texas state line is helping to bring in potential customers from Texas to come and stay and enjoy the amenities Portales has to offer. The city is supported by fully upgraded fiber and broadband internet access throughout its business and residential areas.
Downtown Portales is in the midst of a redevelopment of its historic buildings to refresh and revitalize the city core. They are adding more lighting and are hoping to have artists paint murals on the buildings the buildings to attract more people. The city is walkable and bikeable and there is also reliable public transit, so getting around is a breeze.
This summer the city will work to repair their arterial roads around the university, including the expanse of Kilgore Road and they recently created a pot hole plan to help speed up the process. There are also plans to repave the Portales Municipal Airport's taxiways, upgrade the hangars for larger planes and helicopters, and purchase a new fuel truck with mixed fuel-hauling capacity. The city is also looking to bring in electric vehicle charging stations in the near future.
One of the biggest challenges Portales is facing is finding qualified staff because many long-term employees are on the verge of retiring. Austin admits, "I have to take those jobs and replace them with new people and it means that so much knowledge is leaving. That's a challenge for me as the City Manager, but it's also exciting to bring on new people for these roles and hopefully they stay long-term too."
Water is another challenge. The city's water source isn't as viable as it used to be and Austin's biggest goal for the future is to complete a project to get more potable water to the community. It's a plan that's been in the works since the 1960s, but is now just seven years from completion. The project will see a pipeline from Ute lake, over an hour from Portales, service the city and other towns along the way.
Austin also hopes to see stimulated economic growth and a wide variety of community-minded businesses coming to Portales. She knows local businesses fuel the economy by taking part in events, sponsoring schools, sports teams, etc. and she likes to feature them in Facebook live broadcasts to show the community what they contribute.  "I just think they are so important," Austin shares. "I'd love to see other businesses come in and help support that role and have some healthy competition. We have a direction we want to take the city… we have a lot going on. It's a very, very busy time."
AT A GLANCE
Portales, New Mexico
What: A friendly small city; population approx. 12,000
Where: County seat of Roosevelt County, New Mexico
Website: www.portalesnm.gov
Roosevelt General Hospital & Clinics- www.MyRGH.org
By Jeanette Orrantia, Director of Marketing, Public Relations and Planning, Roosevelt General Hospital & Clinics
According to the United States Census Bureau, about 60 million people, or one in five Americans, live in rural America.  In New Mexico, that equates to about 33% of the population.
This statistic alone is enough to argue the importance of critical care hospitals in rural communities.  Roosevelt General Hospital (RGH) has been serving Roosevelt County and surrounding areas for the last 20 years.  RGH plays an essential and integral role in the healthcare system and provides significant contributions to the welfare of residents.
"As a resident of a rural community, I know first-hand the importance of having convenient access to primary healthcare and emergency care," declares RGH CEO, Kaye Green.  "The quality healthcare we provide helps to promote the overall physical well-being of our residents by preventing disease, improving quality of life, increasing life expectancy, and early diagnosis and treatment of illnesses."
Over the last decade, many rural hospitals were forced to close because of the major challenges they are facing. This has initiated a critical gap in healthcare for rural communities.
While some rural hospitals have shut their doors, Roosevelt General Hospital is expanding to support the nearly 18,500 residents in Roosevelt County, NM.
"We choose to expand our Emergency Department to provide a much-needed service to the residents of Portales and surrounding towns," Green states.
The newly constructed emergency department offers a 24/7 physician-staffed emergency room with ten private beds, behavioral health safe room and an isolation room. Patients have access to world-class, affordable care in a convenient location, close to home.
RGH is committed to safeguarding the health of the members of the community it serves.  Growth plans for the hospital go hand-in-hand with community needs.  RGH pledges to do the best to improve lives of the patients for many years to come.