Newberry Tanks & Equipment LLC
New thinking
Business View Magazine interviews representatives from Newberry Tanks & Equipment LLC, as part of our focus on the tank manufacturing sector.
As steeped in the history of the Memphis blues scene as they are in the petroleum storage industry, Newberry Tanks, today, is employing "New Thinking," revolutionizing the outmoded customs of the industry they helped build.
"Our industry has always functioned on the philosophy that tanks are built once they are ordered by a customer," VP of Sales, James Fischer, explains. "Historically, that has meant the average customer has had to wait somewhere between six and twelve weeks from the time they call, regardless of the manufacturer. That costs customers time, resources, and impedes their output. We're stepping out to the forefront of the industry, by offering tanks on demand, expedited shipping, and turnkey solutions. That's our 'New Thinking' and it's resonating with customers."
Revolutionary thinking has always been part of Newberry's philosophy. Founded by Mr. James "Jimmy" Newberry in 1927 as an equipment company, the company was a thriving Memphis business by the post-war era, employing two surprising names as welders on their staff in 1946: legendary blues guitarist Booker (Bukka) White, and his young second cousin – none other than the "King of the Blues" himself, B.B. King.
"Bukka worked at Newberry before he became a celebrity. After he got out of prison, he went back to see Jimmy and asked for a job. He expected a 'No,' but Jimmy hired him back – that was pretty revolutionary back in 1946. Then B.B. showed up – he'd walked and hitched all the way from Mississippi to Memphis so his famous cousin could introduce him to the Memphis music scene. Bukka not only did that, but Bukka vouched for him at Newberry. Jimmy gave him a job. B.B. worked for us for 10 months, welding by day, playing the blues here in Memphis at night. Bukka stayed with us the rest of his career," Fischer recounts.
Jimmy Newberry simultaneously rose to prominence within the petroleum storage industry. In 1951, he became a founding member of the Petroleum Equipment Institute (PEI), a trade association whose 1,600-plus members in all 50 states and more than 80 countries manufacture, distribute, and service petroleum marketers and liquid handling equipment used in service stations, terminals, bulk plants, fuel, oil and gasoline delivery, and similar petroleum marketing operations.
Upon Newberry's retirement, the company was acquired by Hamilton Tanks of Columbus, Ohio, and continued to grow its reputation for providing quality products and services. Over the years, Newberry Tanks has worked with organizations such as the PEI, the STI (Steel Tank Institute), the SPFA (Steel Plate Fabricators Association), the NFPA (National Fire Protection Association), the EPA (Environmental Protection Agency), and Underwriters Laboratories, and has been instrumental in developing many of the products and standards serving the industry, today.
In early 2011, the company transitioned to its third ownership group with Chris Long, and in 2012, Faith Tank became a part of Newberry Tanks & Equipment, bringing rectangular lube tanks and lube dispensing and oil recycling recovery systems to its catalog of storage tanks and equipment services. Today, the company has about 40 employees who work out of two locations: West Memphis, Arkansas, and a relatively new facility in Memphis, Tennessee. But the tradition of innovation that Jimmy Newberry fostered continues at Newberry to this day.
Company President, Chris Long, takes the spirit of Jimmy Newberry's innovation to heart with the "New Thinking" philosophy. "We have plenty of competition in a sector, but there are no giant national firms.  Most of them are mid-size, regional firms that are, traditionally, family-owned enterprises," he notes. "And, for most of these companies, tradition is doing things the way they've always been done. That's not Newberry's tradition. Ours is innovation. Jimmy's revolutionizing was focused internally: developing a skilled staff at a company that would appreciate them. And that's still true: our welders have stayed here their entire careers, and their children followed them here."
Newberry Tanks & Equipment has often been recognized for its superior workmanship and excellence in standards compliance by the Steel Tank Institute. Rounded out by centralized manufacturing facilities that provide superior economies of scale, today, the company is focused on bringing the traditions of the past 90 years into harmony with a modernized sales and production system.
Delivery is a critical component in that equation. "Since coming onboard, we've expanded both the West Memphis and Memphis locations, and we're now shipping tanks coast to coast and up and down the continental U.S.," Fischer remarks. "A lot of that's been through strategic partnerships with FedEx that gives us relatively good shipping rates, and getting out and travelling the U.S., which is getting us into a position that we weren't in before."
"Memphis is known as America's distribution center, so there's a tremendous network of transportation that all have hubs there," Long adds. "Air, rail, barge, and trucking all work into there. So, Newberry has started to use outside carriers and carriers that go more than region-wide."
"We primarily focus on about four or five target vertical markets," explains Fischer. "PEI and the equipment installer industry makes up about 42 percent of the business; the oil jobbers or fuel distributors make up about 34 percent; the lube oil market makes up about 15 percent of the business; and what's left over is primarily made up of your end users such as the agricultural market. West Memphis primarily focuses on cylindrical style tanks – PEI and fuel distribution; the Memphis location primarily focuses on rectangular tanks, which are for the lube oil market. Those tanks will go into facilities like Jiffy Lube, Valvoline, Wal-Mart – anyone that's doing oil changes or a grease application."
In addition, the company has begun providing turnkey packages to certain of its customers that comes standard with a liquid level gauge, leak detection gauge, emergency vents, atmospheric vent, fill cap, pump, hose, and nozzle. Fischer explains, "When you look at the market segmentation breakdown, your PEI guys and your equipment installers, when they buy a tank, they just want the tank and maybe some emergency vents on it. And since they're an equipment house, they have everything else that they need to get that tank in service. We found a niche in the fuel distributors and oil jobbers markets that don't necessarily have the technician force that the PEI guys do, so we'll provide a turnkey package that is going to have valves, fittings, accessories, pumps, etc. to put in and take fuel out of that tank for the customer's use. So, when that tank's in the ground, it's, essentially, plug it up to the electrical and you're ready to utilize it."
"There's another dynamic that's playing into Newberry's favor, and that's the location and growth of the steel industry in northeast Arkansas in the last few years," Long notes. "More recently, Big River Steel is a greenfield steel manufacturer and they've just announced plans to double their capacity. They're really the first steel mill in the digital era, and that's in addition to Nucor's two mills in northeast Arkansas. So, the steel industry has moved to the south and to the mid-south, and close to Memphis, and that gives us a competitive edge as a fabricator. In addition to being able to get product distributed, we can source our raw material now, made in America, right close to our Memphis fabrication plants."
"Another thing contributing to our growth is our preferred customer program," Fischer states. "Historically, the trend with tank manufacturers has always been when somebody needs a tank, you get in line and wait – there's a 10, 16, or 24-week lead time. We've changed that. We'll get the customer's inventory count for the next full year, and we have a stocking program where, if they need X number of tanks per month or quarter, we will pre-manufacture those in advance and have them on our sites, so when they call us, we'll have those tanks ready to be shipped, immediately, eliminating those lead times. For those customers, it's a tremendous advantage when they go to market."
Also, Fischer reports that most tank manufacturers don't keep an inventory of standard size tanks. "Whether it's a small standard tank or a 30,000-gallon tank, they're going to manufacture those to order," he says. "Essentially, that customer is going to have to get in line when that tank's ready, versus us. We'll keep a large number of our standard sizes up to two or three thousand gallons on our two sites, ready to be painted and shipped, which takes that lead time down from eight weeks to two."
Yet another competitive advantage is Newberry's ecommerce purchasing and service web portal that allows customers to place, or check, order status, any time, quickly and efficiently. "We've got an online portal where customers can access our products and services on the web, order accessory parts, or replace orders 24/7/365," says Long.
Newberry may have a history in The Blues, but it sure isn't singing them. Long and Fischer are both bright on the future of the industry. "With everything that's happened to bring energy security and oil production back to the United States, re-shoring that industry, we're no longer dependent upon the Middle East. So, it's a great time to be in the industry," Long explains.
Fischer agrees: "I think the industry, as a whole, is growing. As the fuel markets continue to rise, there's a higher demand for tanks. We're currently trending about 29 percent year over year, which is pretty good growth and that trend looks to stay the same. As we grow the business – expand here, or acquire, or develop new manufacturing facilities, I think the market is going to continue to have the demand as we acquire more market share."
AT A GLANCE
WHO: Newberry Tanks & Equipment LLC
WHAT: A manufacturer of storage, fuel, and aboveground tanks
WHERE: West Memphis, Arkansas
WEBSITE: www.newberrytanks.com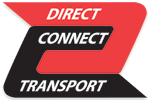 Direct Connect Transport Inc. – www.directconnecttransport.com
Direct Connect Transport is a multi-faceted firm that oversees the transportation of customer commodities and equipment throughout the US and Canada. For years we have been growing lasting business relationships with our customers and installing trust in every shipment we handle. Please call Direct Connect Transport for your next move no matter the size of shipment, we are here to assist. Thanks.