The Evans Adhesive Corporation
Experience – the difference
Business View Magazine interviews Rusty Thompson, President of Evans Adhesives, as part of our focus on best practices in the adhesives industry.
The Evans Adhesive Corporation is one of America's leading manufacturers of industrial adhesives. The Columbus, Ohio-based company manufactures an array of Packaging Hot Melt Adhesives (which are solid at room temperature and liquid at a raised temperature); Pressure Sensitive Hot Melts (which remain tacky even after they are cooled to room temperature); and Water Based Adhesives (which are alternatives used in packaging, converting, laminating, labeling, drywall, and outdoor advertising, among other industries).
The Evans Adhesive Corporation was founded in 1900 and incorporated in 1902 as The Commercial Paste Company. It had been in the Evans family since 1920, but, just last year it was acquired by the Meridian Adhesives Group created by Arsenal Capital Partners as its new platform in the global adhesives and sealants sector, focusing on high-value adhesive technologies.
Recently, Business View Magazine spoke with Rusty Thompson, President of Evans Adhesives, to find out more about the company and its plans going forward since the acquisition. The following is an edited transcript of that conversation.
BVM: You've been a family-owned company for almost a century, and then, last year, you sold it to a private equity group. Why?
Thompson: "We sold it to Meridian Adhesives Group, which is part of Arsenal Capital, in order to be a bigger player with a larger platform from which to operate and grow our business. It gives us a lot of capabilities and resources that we didn't have, as we're trying to separate ourself from the competition within our space. There are two big players in the marketplace where we compete, and a lot of small players in place, as well. So, we're trying to position ourselves as part of the Meridian Adhesives Group and establish our position as the third large player in the area in which we're competing.  Meridian is made up of four companies, today – Evans being one of the legs. There are two epoxy companies, Epoxy Technologies, ATC – Adhesive Technologies; and a floor covering adhesive company, WF Taylor.  Combined, Meridian became a $140M adhesive group in less than 12 months.
BVM: So, who runs the business, now; you or your new owner?
Thompson: "We operate our business, separately. But even when the family owned us, they were not directly involved. We were a family-owned business but we ran it as a corporation, so we had the best of both worlds. Now we're part of the Meridian Group and they're allowing us to continue to do it.  The back office part of the business is where we can find some savings, and where we see good synergies that will improve our financials.  We're operating as Evans Adhesives the same way we have for 119 years, and we'll continue to do so. Even though we're owned by private equity, and part of a $140-million platform, we're operating as we always have – a small company out to meet the needs of the customer."
BVM: Some nuts and bolts: how many employees do you have, how many locations, and where and to whom do you ship product?
Thompson: "We have 54 employees. We have a location, here, in Columbus, Ohio, and in Rancho Cucamonga, California. 85 percent of what we do is in the United States; another ten percent is to Canada/Mexico; and we'll ship, maybe, five percent, overseas in various places, mostly the drywall/gypsum market, where we are a big market leader. The paper packaging, converting, corrugated boxes, litho-lamination is about 40 percent of our business, followed by the sealing of cases and folding with hot melts and cold glues. Then, there's pressure sensitive tapes and labels, bottling labeling, and gypsum."
BVM: How do you compete against those bigger players?
Thompson: "We try to find a way to say 'Yes.' If you need delivery on Tuesday, we'll do what we can to make the delivery. We can do that faster, because we're smaller. We can tailor-make products for people. If we've got 600 customers, as an example, probably a hundred of those are unique applications made for those customers. When I say unique, they're unique in that we're changing the viscosity or changing the solids a little bit to meet their specific needs. It's not a radical change, but tailoring a product to fit what the customer needs and wants. That's what really garners our business growth. The big companies can't do that – they're not as nimble. We try to make sure we get the customer what they need, when they need it, with the quality that they expect, as well."
BVM: Your company tagline is: Experience – the Difference. What does it mean?
Thompson: "What separates us from much of our competition comes down to our experience. Our guys in the field can call on a customer, or receive a phone call from a customer, and answer the question, directly. Many of our larger competitors – they get a phone call, and if they return the phone call, they still have to check with the chemist to find out what to do, what to recommend, whereas, we already have that experience. Most of the time, they can address it from the field because of their vast experience and knowledge base. They know what's going on; they've seen all the applications and it's just faster and easier for them to address the problem, directly. We've seen nearly every glue application out there and we can quickly ascertain faster than our competition what it is they need."
BVM: You mentioned how you deal with your customers; what is your relationship with your suppliers?
Thompson: "A supplier and a customer are both critical to our success. The better the relationship we have with suppliers, the more success we're going to have with our customer base. It goes hand in hand. As President, I spend as much time with our supply base as I do with our customers. I found that critical because I need the ear of the supply base to listen to what our needs are – supply, price, technology, development – whatever it may be, we go through that process because we need that supplier to understand where we are at any given time.  Our success is their success. That goes across the entire supply base, and they're all equally and critically important – from the guy that supplies us drums, to the trucking company that ships our tankers, to the tote people that make our totes, to every single raw material supplier. And for that, we've been able to garner wonderful, long lasting business relationships that are probably better than the rest of the industry. And when comes to new product development, most of our suppliers bring it to us first, so we can articulate what value the material may have in the industry.  Again, we are more nimble and can do things faster than the larger guys.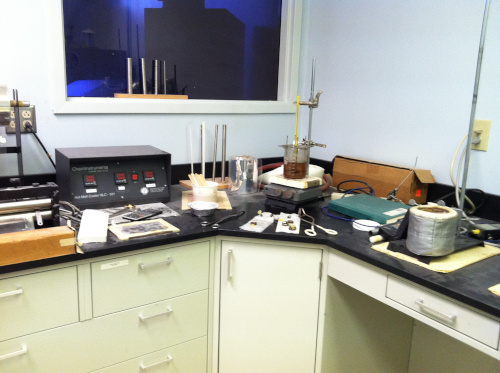 BVM: Getting back to the Meridian acquisition: how will your new parent company help fuel your growth?
Thompson: "Meridian will make future acquisitions that will only enhance what our group is already doing. So, our piece of the puzzle is the paper packaging, tapes/labels, converting and gypsum area. We will go out and acquire companies and people that will enhance our business – either a competitor, or a supplier – and that will help garner us additional benefits to serve our customers. As an example: some of our hot-melt is actually toll-manufactured, today. If we go buy that toll manufacturer, that's going to enhance our business. There are four companies, today. The platform is scheduled to have ten to twelve companies. There's another company being acquired in the next 90 days. So, essentially, we're already half way to where we want to grow this platform. Being part of Meridian allows us to have the resources to do that, without putting our business in financial jeopardy. I can't tell you how pleased we are to be part of the Meridian Group because of that. We are well managed from Meridian and we have a very solid plan moving forward."
BVM: Where do you see Evans Adhesives several years up the road?
Thompson: "I think we will have positioned Evans Adhesives and the Meridian Group, and the related companies that we'll acquire over the next five years, as a solid, number three player in the U.S. We've got the ability to capture some market share because of our customer service, our ability to be more competitive as we get larger, and, of course, our people and our experience.  We have access to new technologies and development with our diverse platform.  We can compete and we have good people to make it all happen.  It should be a great ride!"
AT A GLANCE
WHO: The Evans Adhesive Corporation
WHAT: A leading manufacturer of industrial adhesives
WHERE: Columbus, Ohio
WEBSITE: www.evansadhesive.com
Premier Container – www.premier-container.com
Premier Container Raises the Bar on the IBC Reconditioning Industry 
Despite considerable advances in cleaning technologies in the last decade, the industry seeks partners that can provide reliable, high-quality services and the kind of customer service that ensures their needs are not only met, but exceeded.
Get to know Premier: Premier Container is raising the bar on the IBC reconditioning industry with an unparalleled commitment to the details. Not only does Premier offer the most advanced processing technologies, equipment, and training, but with decades of collective experience, its leadership team delivers the quality and attention to service that competitors simply cannot meet. Knowing turn-around time is critical, Premier delivers high-quality servicing and promptly returns totes to ensure customers maximize their performance.
Looking for the kind of quality and service you've been lacking?
See if Premier is the right partner for your needs. Services include:
Premier Container Cleaning:

Cleaning and Repair of Poly and Asset (Steel) totes
DOT & UN Recertification's
Nitric Acid Stainless Steel Drums & Tanks

Sales:

Reconditioned, New Bottle IBC Tote Sales
Stainless Steel Totes
Drums, Pails, Jerrycans
Wood Pallets (assorted sizes)

Rental of Stainless Steel Totes
Fabrication Services – Complete with certified welders to design/fabricate/repair any tanks, parts, and accessories.