Flying to your destination on a private jet is an experience in and of itself. Excellent service from a skilled flight crew from the moment you board the plane until the time you land; plus, you get to fly at your own time and skip crowded airports, and the long security lines. Private aviation is at the pinnacle of travel luxury, hands down.
Just a few years ago, private jet travel was exclusive to celebrities, company CEOs, and the uber-rich who have an aircraft of their own – but not anymore. With the cost of a private jet charter becoming significantly lower than it used to be, plus the apparent decline in the quality of services offered by many commercial airlines, the interest, and demand for private aviation services are currently at an all-time high.
Still, for most of us, the opportunity to travel on a private jet does not come by too often. If you're about to rent a private aircraft for the first time or were invited as a guest on a private plane, well – lucky you! But like many first-time experiences, it's always wise to be prepared.
Private jets tend to be very flexible and relaxed around the client. But as with any luxury, this one, too, comes with its own set of rules. While drinking one-too-many flutes of champagne during the trip may not be an issue when traveling with friends, showing up late, and overdressed may raise some eyebrows and leave the wrong impression!
Over the years, general norms developed around private jet travel and have since been considered as onboard etiquette. These "jetiquettes" are the unspoken rules that jet-setters and frequent fliers observe.
Avoid private air travel faux pas. Check out the infographic for more dos and don'ts when flying on a private jet.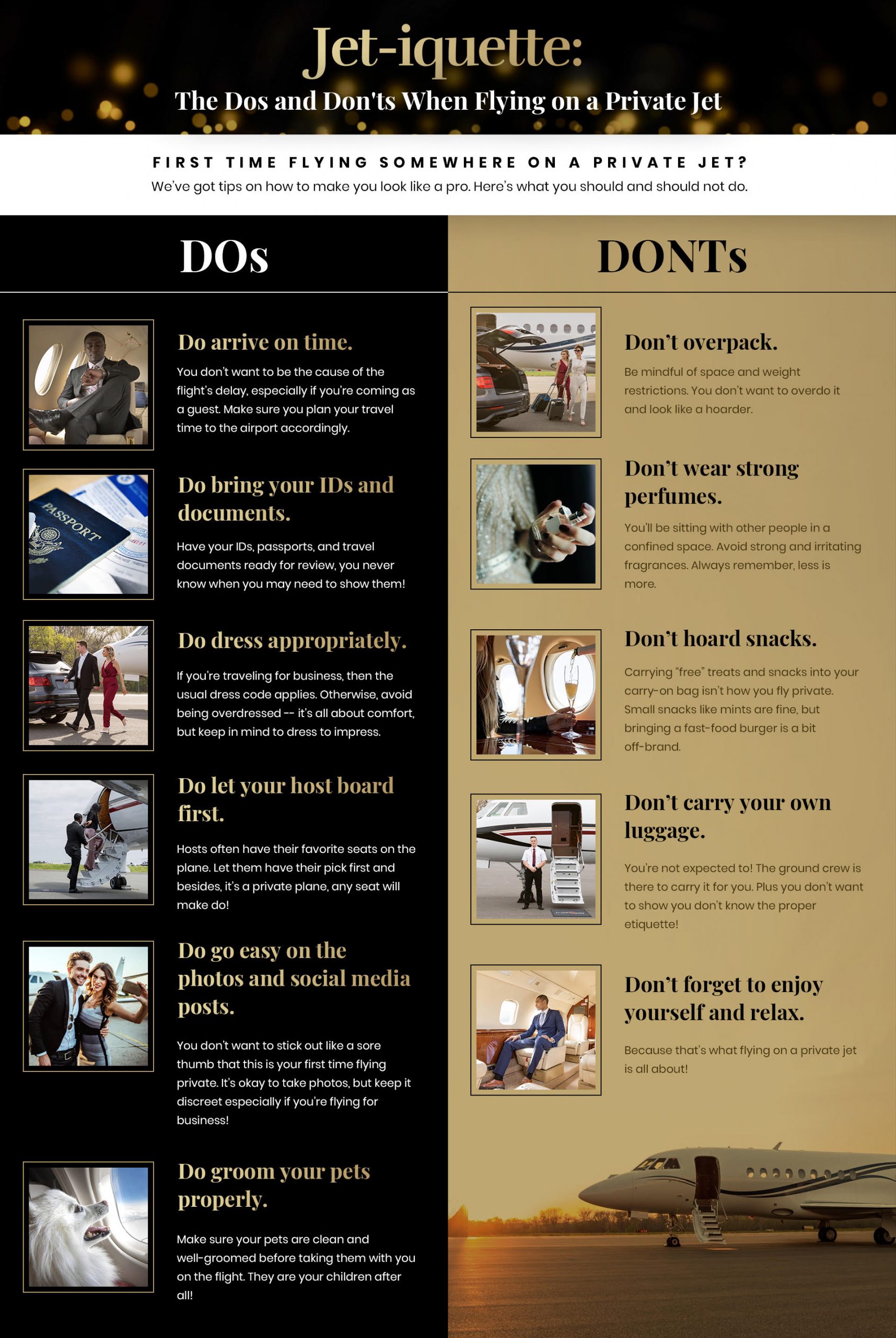 About the Author
Melissa Hull is the Content Marketing Strategist for Aviation Charters, a West Trenton, New Jersey-based private aviation company that provides on-demand aircraft charter, aircraft management, and aircraft acquisition services.