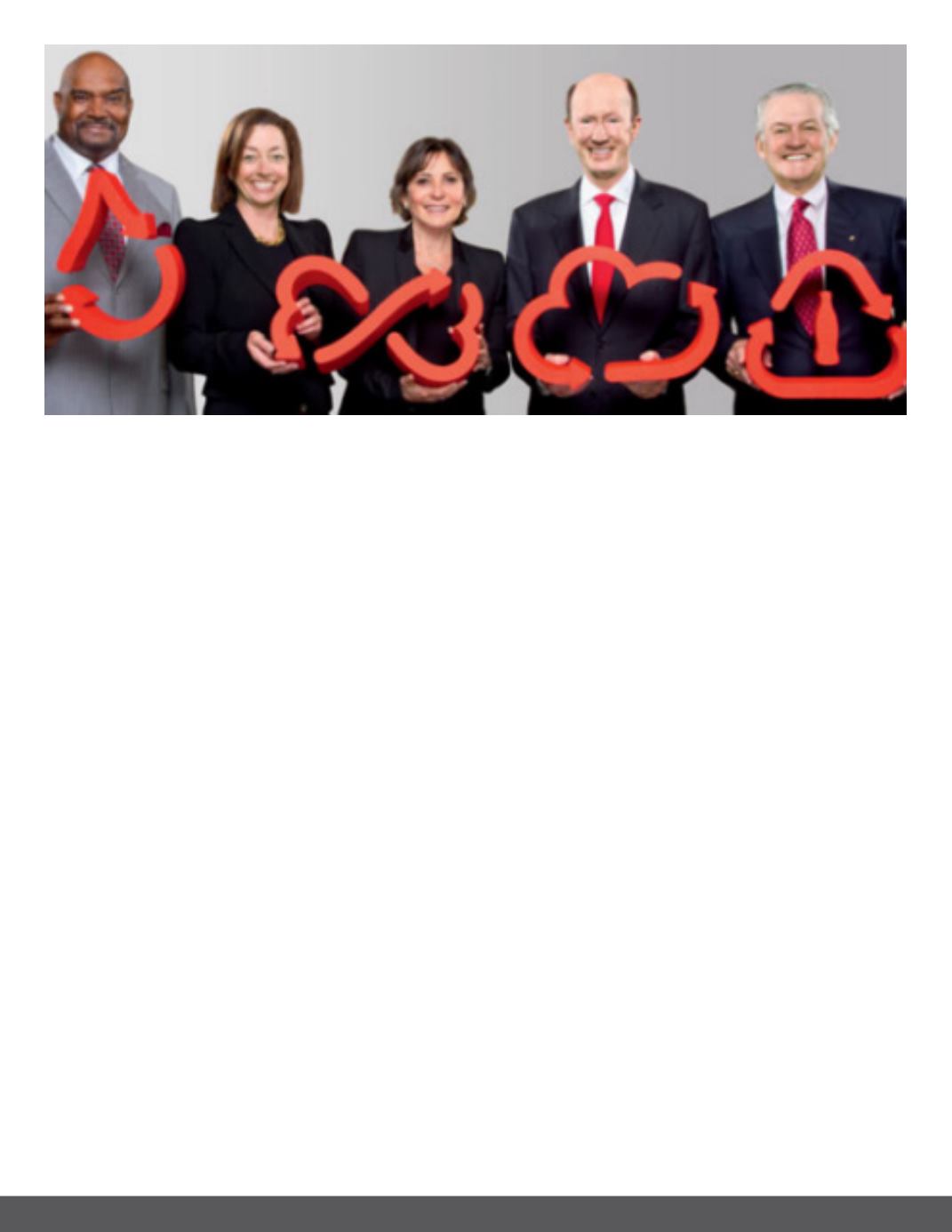 Business View - November 2014 13
cember 31, 2013, our 5by20 programs had enabled
more than 550,000 women in 44 countries since
2010. More than 255,000 women were impacted in
2013, an increase of more than 50 percent over the
"We are working to balance the water we use
by 2020, returning to our communities and nature an
amount of water equivalent to that used in our bever-
ages and their production. We are currently on track
to achieve this water goal. In 2013, we replenished an
estimated 68percent (a calculated estimate of108.5
billion liters) of the water used in our finished bever-
ages through 509 community water partnership proj-
ects in more than 100 countries, and we improved our
water use efficiency for the 11th consecutive year with
an 8percent improvement over 2010."
"We continue our work to meet our 2013
global business commitments to promote well-being
and to help address the public health challenge of
obesity. In 2013, we offered more than 800 reduced-,
low- and no-calorie products worldwide — nearly 25
percent of our global portfolio. We also supported
more than 290 physical activity programs in nearly
The report also updates other areas of progress.
Through The Coca-Cola Foundation, the company's
global philanthropic arm, it invested $143 million (1
percent of operating income) to support sustainable
community initiatives in 2013. It also continues apply-
ing supply chain and logistics expertise to help deliver
essential medicines to communities that need them
through Project Last Mile.
Work is continuing against ambitious new goals to re-
duce the carbon footprint of "the drink in your hand" by
25 percent and to sustainably source key agricultural
ingredients by 2020. In addition, through June 2014,
Coca-Cola had then distributed more than 25 billion
fully recyclable PlantBottle packages across nearly 40
countries since the program launched in 2009.
"We're investing in sustainability because it helps us
grow our business, make a positive difference for the
people and communities we serve, and protect the en-
vironment we all share," said Bea Perez, chief sustain-
ability officer at The Coca-Cola Company. "The results
in our report reflect Coca-Cola's commitment, our em-
ployees' passion, and the power of our many partner-