Des Moines, Iowa
No better place to go
Business View Magazine interviews representatives from Des Moines, Iowa as part of our focus on best practices of American cities.
Des Moines, Iowa, the county seat of Polk County, is also the capital and the most populous city in the Hawkeye State. Des Moines was named after the Des Moines River, French for "River of the Monks." The city traces its origins to May 1843, when Captain James Allen supervised the construction of a fort on the site where the Des Moines and Raccoon Rivers merge. It was incorporated in 1851, with a population of about 500, as Fort Des Moines, the name of which was shortened to Des Moines in 1857.
Today, Des Moines' population is approximately 215,000 within a greater metro area of half a million. The city has 52 neighborhoods, 76 city parks, three golf courses, three family aquatic centers, five community centers, three swimming pools, and 81 miles of trails. It is a major center of the U.S. insurance industry, with sizeable financial services and publishing businesses based there, as well. "Des Moines is the number three insurance center in the world," says Deputy City Manager, Matt Anderson. "For the last hundred years, we've been an insurance and financial services-based economy, in addition to the agricultural economy around us."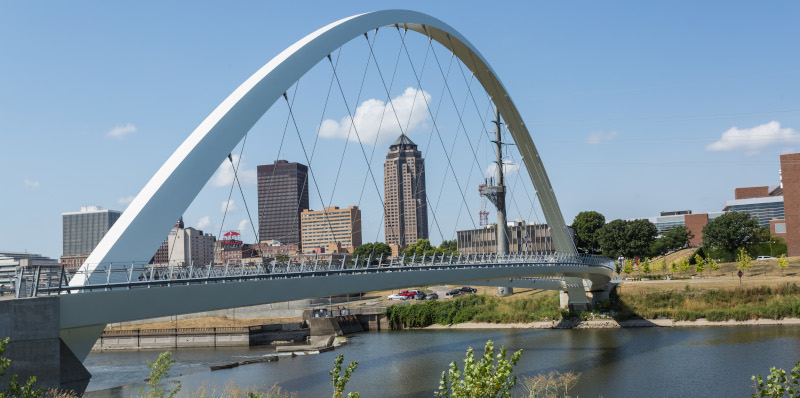 With that diverse an economy – based on government, insurance, finance, and agriculture – Anderson believes that Des Moines, Iowa is "as close to recession-proof as you can get. We did not feel the hit from the 2008-09 recession," he notes. "We've had a really great run for the last eight to ten years. It's been in all sectors – hotel growth, residential, office attraction, arts, entertainment and culture, industrial, warehousing – you name it. I don't think we have a weak sector, right now. We are in an enviable position with the breadth of our development going on."
Over the last decade or so, much of Des Moines' development has been centrally located. "We've more than doubled our downtown residential population, which has been instrumental in adding vitality to our downtown," explains Economic Development Director, Erin Olson-Douglas. "We've really transitioned from a five-day-a-week, eight-to-five, business district to an 18-hour, seven-day-a-week city. And that has to do, in large part, to the new residents living downtown. And it ranges from Millennials to empty-nesters; both demographics have found downtown to be a choice place to live. Not only do we have new residents moving into downtown from beyond the region, we also get suburbanites moving into downtown from within and around our region."
Des Moines, Iowa is also a vibrant sports town – "the major league of the minor league," says Olson-Douglas. "We have the minor league versions of a lot of our Midwestern, iconic teams." In fact, in 2017, Des Moines was ranked as the #1 Minor League sports city in the U.S. by Sports Business Journal. It is home to the Iowa Cubs, an AAA team of the major league Chicago Cubs; the Iowa Barnstormers of the Indoor Football League; the Iowa Wild of the American Hockey League; and the Iowa Wolves of the NBA G League.
"We are devoted to arts and culture," Olson-Douglas adds. "We have an outstanding Arts Center with a very strong collection in it, and the Pappajohn Sculpture Park has a world-renowned collection of outdoor sculptures." The Des Moines Art Center, with a wings designed by architects Eliel Saarinen, I. M. Pei, and Richard Meier presents art exhibitions and educational programs as well as studio art classes. The Center houses a collection of artwork from the 19th century to the present. Celebrating its 10th anniversary this year, the John and Mary Pappajohn Sculpture Park features artwork by 24 of the world's most celebrated artists, with many of the works donated by the Pappajohns, themselves.
"On the performing arts front, our Civic Center attracts some of the first-run, travelling tours of Broadway shows, when they hit the road out of New York," Olson-Douglas continues. The city is also home to the Des Moines Metro Opera, the Des Moines Symphony, the annual Des Moines Art Festival every June, and the Iowa State Fair in August. "We also have a very nice, and new, support for local artists, the Mainframe Studio, which is home to 70-plus local artists."
"Des Moines is a city that, punches above its weight class," Anderson declares. "from a business, culture, sports, entertainment, and philanthropy standpoint, we can go toe to toe with cities twice our size and fare really well." Anderson further believes that those amenities, in addition to a very productive local workforce, help make Des Moines a choice location for new businesses and business expansion.
"We don't have to do a whole lot of deal-chasing around here; the deals come to us," he states. "In the last ten years, we're generally negotiating from a point of strength and people want to be here for all the right reasons. We just had another national ranking and when you do the ratio of housing costs, or cost of living, to wages, we rank Number One in the country. A couple of years ago, the Today Show called us the 'Wealthiest City in America' because your paycheck goes a lot further here in Des Moines."
Olson-Douglas believes that much of the city's current good fortune is due to some visionary preparation performed more than two decades ago: "About 25 years ago, when downtown really was an eight-to-five center, we did a fair amount of planning. We brought in a design team that saw Des Moines as a livable place with broad support for arts and culture and a supportive philanthropic base. They came in and did some big picture planning for downtown, identifying strengths and opportunities in better connecting parts of downtown that were separate. We have a very iconic, gold-domed Capitol that's separated from the central business district by about a mile. And the parts between were not inspiring. However, thanks to that visionary planning and cooperation of the private business sector, we transformed that area into the East Village, an eclectic and vibrant addition to Des Moines. We also did significant improvements to an area that we call Gray's Lake Park, turning it from a former gravel pit to a very nice park with a pedestrian bridge that draws over a million visitors a year. That happens to be along the route from downtown to the airport, which was identified as fairly dismal. So, we did major streetscaping work along Fleur Drive that connects downtown to the airport.
"We completed a very large urban renewal project in the western part of our downtown, just west of our central business district, where the city and private business bought up five or six blocks of private property and tore a lot of it down for a park, and sold some of it to corporations. That area is now known as Western Gateway and we now have Wellmark Insurance Company, a Blue Cross and Blue Shield Company, headquartered along Gateway Park. Meredith Corporation, which recently bought Time Inc., is headquartered in downtown Des Moines, Iowa. We have Krause at Gateway Center, the owner of Kum & Go, which has a new building designed by renowned architect Renzo Piano. And there's Federal Home Loan Bank – all located along the perimeter of this park, along with a number of old buildings along the edge that house restaurants, housing, and the like. It's become a really nice, mixed-use district and an enviable spot for corporate growth. The other area that came out of this big picture vision planning was what we refer to as our East Village, which is on the east side of downtown and connects the capital area to the river. It's become a pretty vibrant mixed-use district over the last ten to fifteen years."
Anderson says that one of the things that sets Des Moines, Iowa apart from its peer cities is its high level of both individual and corporate philanthropy. "When their leadership comes, and we show them everything downtown, they'll often ask how we did it," he recounts. "Usually, our answer is through a public/private partnership with somebody who had an idea and backed it either with monetary or in-kind donations. Generally, their response is, 'That could never happen in my city.' So, the Principal Riverwalk is named after the Principal Financial Group. They invested far more money than they intended to at the onset but got really caught up in it. When they made their investment, it was easier to attract other investment. The Brenton family donated money for an outdoor ice skating rink. The world-class Pappajohn Sculpture Garden in Western Gateway Park, was kicked off by donations from the Pappjohns' private art collection. One of the largest outdoor skate parks in the country, that will break ground later this year, has a very large family donorship to it. So, these things happen organically with people stepping up and wanting to be part of a project."
Going forward, the city has some major initiatives on the front burner. "We're a city that does a plan and doesn't let it sit on the shelf," Anderson exclaims. "We do a plan, we implement it, and then we start planning more. So, we're kind of in that 'planning more' phase right now; looking around for what's next. The next really big regional push is a water trails plan that will center around downtown to try to re-engage with the rivers. The rivers are an asset that we've kind of ignored for the last couple of generations and we see them as an asset that can be recapitalized both in term of recreation but also from an environmental stewardship standpoint. We have two major rivers – the Raccoon and the Des Moines – that come through downtown, and we have three separate white water features that are in the early planning stages. We expect the budget to be in the $100 million range or higher. It will not just be downtown-focused; the suburbs already have in their capital plan smaller projects, some of which will be starting this year, that connect the rural, suburban, and downtown areas via our rivers."
Another item on the agenda is a push for more single-family housing. "We recognize that our downtown housing stock is pretty one-dimensional – a lot of one-bedrooms," admits Olson-Douglas. "We have some good basic pieces that make downtown livable, but we don't have the large-scale housing stock that people have been drawn to in our city's neighborhoods. One way we're looking at this is to recognize that we have a lot of obsolete and aging housing stock on the periphery of downtown, in our neighborhoods, and we are at the leading edge of some neighborhood initiatives to address this. We're setting in motion a few pilot areas and directing significant resources towards four particular neighborhoods. We've tried to balance them geographically and balance the types of housing that they offer. Our hope is that anyone who really wants to live in Des Moines can find themselves a home in any of these neighborhoods that we're going to be working on. A number of cities have found the closer-in neighborhoods to be attractive for a number of reasons. So, that's one of the pieces on the family-housing front that we're working on."
Olson Douglas adds that in order to help ease the way for all types of development in Des Moines, Iowa – corporate and commercial, as well as residential – the city is going to need to update some of its zoning regulations. She explains, "That's a major initiative that we have underway, right now – a complete overhaul to our 1960s zoning code. We've amended it more than 300 times and it has become very user-unfriendly to developers; it's become a hindrance to things that we've identified that we wanted to do in certain places. So, instead of paving the way for developers to do the sorts of things that our planning suggests, we have had, in some places, zoning that creates an additional two or three steps of process. The new zoning code is aimed at aligning our planning with our regulations to reduce the amount of process that goes along with development and provide what our neighborhoods have said they want and expect. However, the process of overhauling it to a form-based zoning code has not been an easy undertaking. It has been a challenging process; people, by and large, recognize that we have something that is not very useful, but yet, there's a lot of angst over doing something new, as well. It's been the better part of three years in the making at this point, but, with any luck, we'll have it before council, this year."
Finally, as the 2020 Presidential race heats up, Des Moines, as it does every four years, becomes an increasingly important city in the realm of United States politics. As the state capital, the city is the site of the first caucuses of the primary election cycle, and currently, many presidential hopefuls have set up their campaign headquarters in Des Moines. Indeed, a 2007 article in The New York Times said, "If you have any desire to witness presidential candidates in the most close-up and intimate of settings, there is arguably no better place to go than Des Moines."
A city that "punches above its weight," with a thriving economic base, continued development, and a high quality of life, surely there is "no better place to go" than Des Moines, Iowa.
AT A GLANCE
WHO: Des Moines, Iowa
WHAT: The capital and the most populous city in the state
WHERE: Central Iowa
WEBSITE: www.dsm.city
Synergy Contracting LLC – www.synergycontracting.net
Synergy Contracting believes that with the mutual cooperation of management, our employees, subcontractors, and the owner there is no project too big, too small, or too difficult to successfully complete.