C&S Supply
providing winning hardware solutions
Minnesota company's 60-plus years of proudly local excellence
By all measures, C&S Supply Company, Inc. has stood the business longevity test. A presence for 66 years now, the company's origins trace back to Daniel Corcoran of Mankato, Minn., and R.D. "Wick" Sherwood originally of Wichita, Kansas, hence the "C" and the "S" in the company's name.
Moving on from an original store on North Front Street in Mankato, the company's headquarters has been at 1951 N. Riverfront Drive since 1963, and the building has increased from 12,000 to 45,000 square feet.
Thirty-one years ago, C&S Supply became a member of True Value Hardware. It is also a major supplier of work clothing, nursing uniforms, footwear, farm, horse tack, hardware items, and power equipment sales and service. From Carhartt, Dickies, Key, Georgia Boot, and Stihl to Cub Cadet, Weber, and many others, you name it, C&S has it.
Employee-owned for the past 16 years, its principal managers are Robin Schendel, Corey Kapaun, Erin Selle, and Megan Thrun. Having an ESOP (or employee stock ownership plan) is extremely beneficial to the company and its approximately 40 employees (some full-time, some part-time, from teenagers to retirees).
According to Corey, having an ESOP paradigm for the company just makes more sense. It helps keep things local, and it means the company won't be taken over by some other outsider corporation or a big-box store, as he points out.
"That happens to a lot of other stores of our type and size," Corey observes, citing companies unfortunate enough not to opt for an ESOP model. "They get swallowed up by some other store that has multiple locations. Then it just becomes another big box."
He credits C&S Supply co-founder Corcoran, who later bought out Sherwood in 1985, with creating the company's ESOP model. Corcoran's vision, as Corey points out, was to maintain the company as a local entity and to reward its hardworking, longtime employees. An ESOP was the perfect way to do that.
"That was a nice thing he did for all of us," Corey says of Corcoran's foresight and generosity.
It took a lot of careful planning and research to create the ESOP for C&S Supply, but in the end, as Corey notes, it all paid off and was well worth it. Further, he praises Erin for her handling of the company's ESOP-related aspects,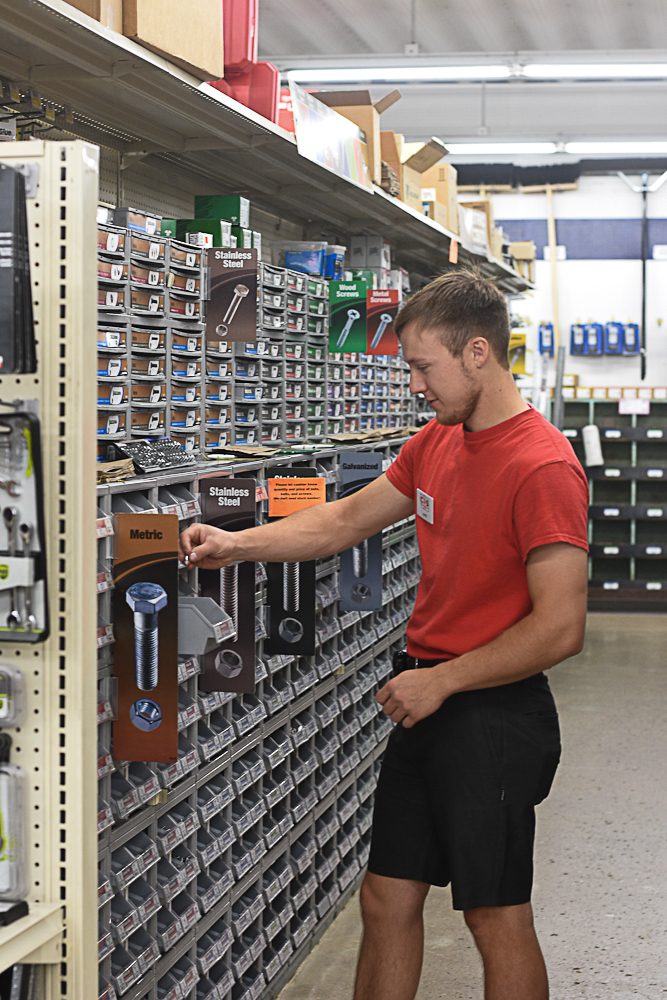 Staying focused
Robin says the company relies heavily upon service and inventory.
"We are known around the area to have what you need in stock," he says. "We don't tend to get into frilly things. We stay focused on what we're good at, and if we can continue to do that, then that's what draws customers in."
Throughout the industry, traditional brick-and-mortar hardware stores are decreasing. Yet Robin says he doesn't see that happening with C&S. The company is doing business up a storm, he says, citing more than 300 charge accounts with contractors in the Mankato area. Plus, of course, there are the general hardware, power equipment (and they service what they sell in their on-site small engine repair center), and specialized work clothing facets to the company's business, all moving like gangbusters.
"We're unique in the way that we do business," Robin says, "compared to a regular farm retail."
Erin notes the company's ratio of employees to the store's square footage. It's a very noticeable difference, she says, versus the competition that C&S has, such as Fleet Farm, Home Dépôt, and other establishments.
"That's because we want people visible from all angles on the floor in the store," says Erin, "and they're also walking around the store, asking everybody if they can help. Go to Home Dépôt or something like that, and you might have to search around for somebody. You're not going to have to do that here."
As well, Erin adds, C&S employees are quite often veteran long-termers, so they're quite knowledgeable when it comes to the professional advice they give to customers.
What does the future hold for C&S Supply? The company intends to keep on keeping on, says Corey.
"Retail-wise, we're going to look for areas to expand in," he observes, "but we're going to keep doing what we're doing, as far as being in front of the merchandise. We have a lot of good contacts with our reps—with the people that we use as suppliers. We can talk to them and find out where things are going and where any shortcomings are coming from. We can react faster than other companies, and I think that gives us a benefit, going forward."
Erin shares his assessment, adding that the company will "not grow, grow, grow," save in the one Mankato location, and indeed that it has no intentions of doing otherwise. Maintaining the same course, sure and steady, is what C&S aims to do, as she points out.
"We're not trying to grow the company in multiple locations," she says.
"We've been around for 66 years. We know exactly what we're good at and what our perfect size is. We just know what our needs are. We have survived big-box stores coming into town. We know what kind of storms we can weather."
Corey expounded upon this same theme.
"Robin and I have both been here for more than 33 years," he observed. "We've seen stuff in our years here, where we've gotten out of certain areas and expanded in others, and I can see us having to do that. You can't sit still."
Corey adds that what your strengths are today may not be the same within five years of normal business growth. Things change, but going to conferences and buying shows and generally keeping one's collective ear to the ground will serve you well, as he points out.
"That benefits us in being able to make changes a little quicker than others," he shares.
Robin concours.
"The buyers are also the people who help sell it on the floor," he says, as opposed to buyers who are 10 states away and have no proper handle on what is being bought, sold, or asked for.
"That makes us a little more unique, and like Corey said, we keep morphing into different things."
More hardware
Thirty to 40 years ago, Robin continues, the company "sold farm supplies like crazy," whereas today, that has changed into a greater emphasis on selling hardware items and work clothing. You find out, he says, what "you need to be deep in," in terms of inventory.
"Or sometimes you may have people come in and take several hundred feet of chain at a crack," he reveals. "Most places aren't set up for that kind of thing, but we recognize that's something we can take advantage of, and we do, and they come to us because of that. You take advantage of the situations, and you know that it is going to work out for you, usually, in the end."
Maintaining a sense of humor also helps keep you and your business grounded, as Robin notes.
"Now and then, we get skunked," he says with a chuckle, "but usually, we're pretty good at it."
There's something to be said for keeping things small and local. C&S Supply does a lot of business with the City of Mankato and the counties of Blue Earth, Nicollet, and Le Sueur, as Robin points out.
He adds that being able to serve customers well and offer them expert advice are key factors in the ongoing success story of C&S Supply.
"I think that a lot of it is the service that we give and the knowledge that we have," says Robin, "and the experience that we have. We want our customers to be treated the way we want to be treated. I think that a lot of times when they walk in, they know us, and they know who they want to talk to. I think there's a lot of that. We're business people, but we're approachable."
Giving back the community flows seamlessly through the customer approach C&S Supply practices every day as well.
"We contribute several donations to our local community throughout the year to places like United Way, Salvation Army, Toys for Tots, Bundle Me Warm program, Pap Joe's Pals, and many other individual benefits and silent auctions. We also donate to local schools in our area to help provide safe and fun graduation and prom parties for their students."
Further, as Robin l points out, many customers come into C&S Supply because they know it uses the ESOP model. The fact that the company is local and employee-owned is not only more advantageous for its employees, but it also serves as a more attractive factor for the people who come in to shop at C&S. It's the sort of thing folks care about, and that matters a great deal to them.
"They tell us, 'We appreciate you,'" Robin says, emphasizing the family feeling that comes with being local like that, "and 'That's why we come and see you."
*photo credit Karen Werling
AT A GLANCE
C&S Supply
What: an ESOP-owned hardware and farm supply store
Where: Mankato, Minn.
Website: www.candssupply.com
ESI Equity – esiequity.com
Determining an objective value for your business is critical.  ESI Equity excels in providing reliable business valuations, specializing in ESOP-owned companies for over 30 years.  We have experience with a broad spectrum of industries and geographic areas.  All relationships are confidential, objective, and professional.