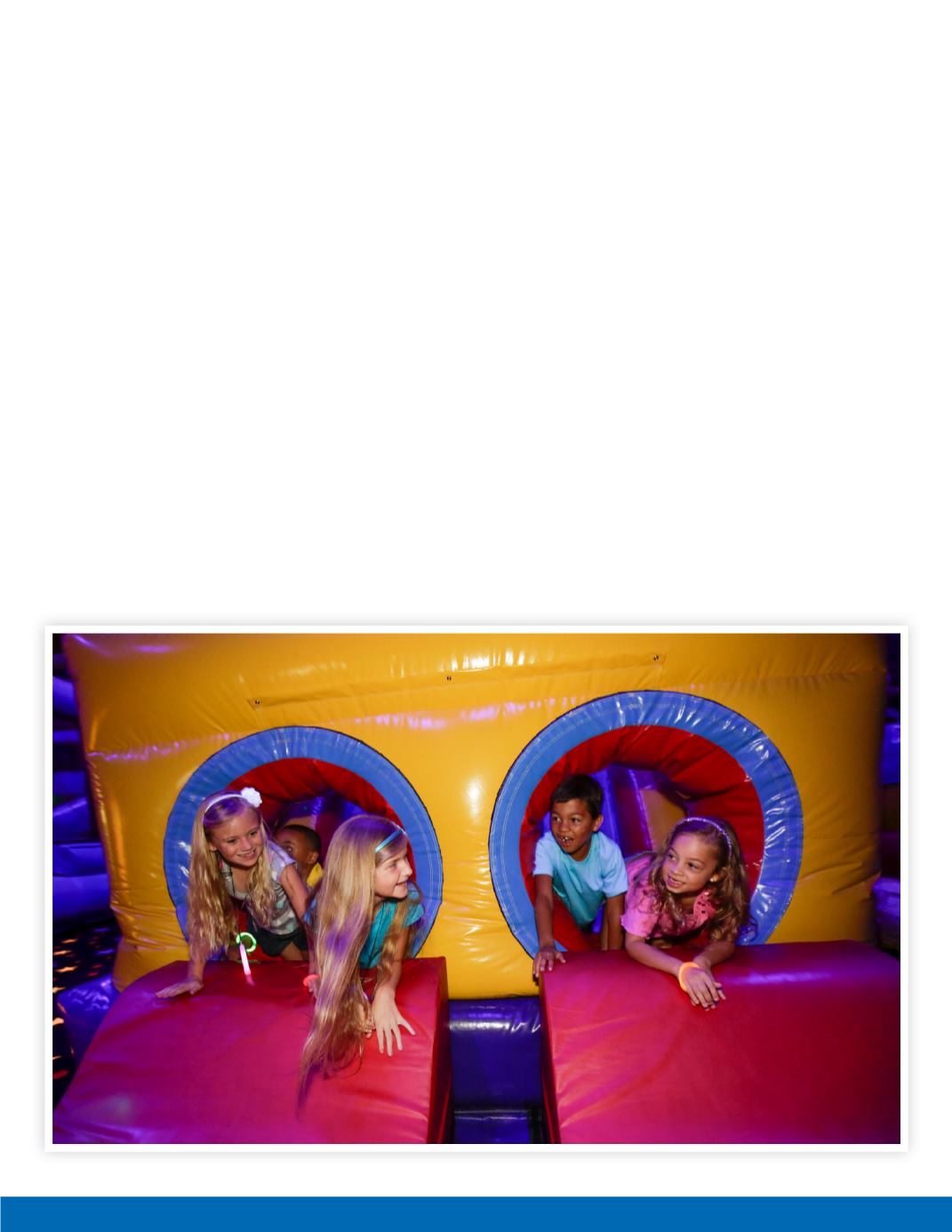 6
stores up more during the week for what we call 'Open
Jump Time,' where you can bring in your child for an hour
Knowlton explains the differences between his compa-
ny's two brands: "Pump It Up focuses more on imagina-
tive play. It has more than just inflatables. It has rock wall
climbs, Motion-Mania, which is an interactive, audio-visu-
al experience; we have imagination blocks which are like
large legos to build stuff. And we encourage active use
of a child's imagination because we feel there's an issue
with that today with kids being on video games too much
or on their phones. There's too much electronic activity
and not enough playground-type play. BounceU is more
focused around birthday parties and birthday celebra-
tions, with a lot more themed parties, where there are
characters. It's 'Imagination' on the Pump It Up side and
'Crazy About Birthdays' on the BounceU side."
Clearly, these changes have been good for business. "In
the last six years, our average unit volume has gone up
every year, and four out of the last five years, our same-
store sales have gone up every year because we've re-
ally focused on these other activities," Knowlton says.
Pump It Up and BounceU are both franchise operations.
"On the Pump It Up side, we have two company-owned
stores out of the 140, and on the BounceU side, we just
sold our one company-owned store, so all 50 stores are
franchised." Knowlton adds that about 40 percent of the
system is comprised of multiple-store operators. A typical
store territory is one that is within a 20-minute drive-time
radius and can service about 70 to 80 thousand kids.
What type of person becomes a Fun Brands franchi-
see? "Our typical franchisee is almost always a fan of
the brand," says Knowlton. "They've hosted a birthday
party, or they've been invited to a birthday party, or their
relatives have been to a party and they've talked about
how amazing it is, so they instantly have a passion for
it. They're usually an entrepreneur at heart who has a