Accurate Plastics, Inc.
You know it's right when it's Accurate
Business View Magazine interviews representatives from Accurate Plastics, Inc., as part of our focus on best practices in the composites manufacturing sector.
Accurate Plastics, Inc. of Yonkers, New York, is an ISO 9001:2015-certified manufacturer of high performance thermoset industrial laminates. A thermoset is a polymer that is irreversibly hardened by curing from a soft solid or viscous liquid prepolymer or resin. A thermoset laminate is composed of thermoset resin binders (such as epoxy, melamine, silicone, polyester phenolics, and polyimides) that are combined with reinforcing substrates (such as paper, cotton fabric, fiberglass fabric, or other fibrous materials, including graphite and Kevlar), and cross-linked under heat and pressure to form sheets, tubing, rods, angles, or shapes. These reinforced laminates are extremely durable, light-weight, and moisture-resistant, which offer many opportunities to replace metals. Thermoset composites are uniformly dense, structurally strong, and will not soften under exposure to high temperatures. Thus, they retain excellent mechanical and insulation properties at elevated temperatures, which allow applicability in places where thermoplastics will soften or melt.
Accurate Plastics began as a laminate distributor that became a producer after equipment and a production facility was acquired by Company President and Founder, Michael Stacey, in January 1980. "We began making laminate within a few months of that," he recounts. "As time went by, we added another press and another facility in Falmouth, Massachusetts, and we've been selling high pressure laminate to the industry for all these decades." Today, the company has 70 employees and sells its products worldwide.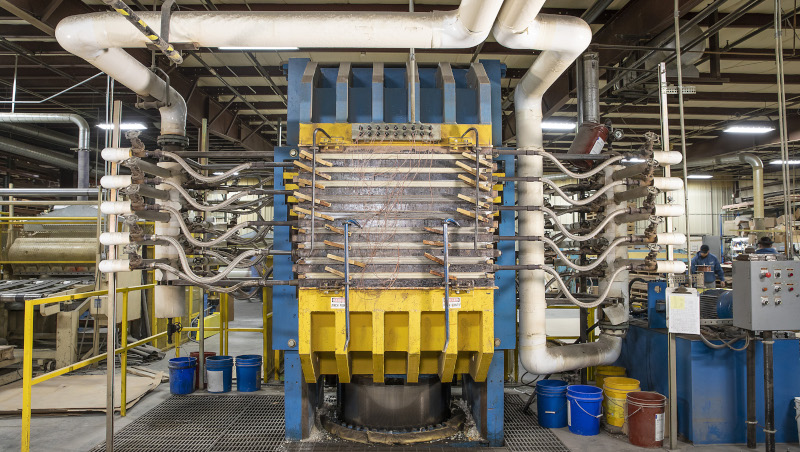 "We mostly sell through distributors and fabricators," says Company CEO, Max Egan. "We see ourselves as a manufacturing partner for the distribution and fabrication partners in our supply chain." The company's proprietary Acculam lines have many uses and applications for their end users. For example, some Acculam grades of tubing and sheet material find use in electric arc furnace and welding equipment, including electrode insulating plates, induction heating coil forms, terminal blocks, platen insulation, and bus insulation. Some provide casings for induction heating impeders and Mig welding tip insulation.
Other grades are used in gaskets, thermal insulation, electrical barriers, shims and spacers in oil, gas, water, and various pipeline applications, as well as in motors, carburetors, etc., where both strength and seal capabilities are needed. The company's strongest thermoset laminate materials, which have excellent stability in the presence of water, chemicals, and solvents, allow uses in cryogenic, magnetic, laser, medical equipment, and chemical assemblies. Others serve as rocket motor casings for pilot ejection seats, flares, practice munitions, and other military and ordinance applications.
Still other products are used in heavy equipment and transport vehicles as race bearings, flanges, gears, hydraulic wear rings, motor mounts, compressor vanes, doctor blades, etc. The excellent electrical insulating properties, high mechanical strength, good dimensional stability, good moisture resistance, and arc resistance enable all Acculam grades and forms to be used in many electrical equipment assemblies as spacers, arc chutes, shields, stand-offs, fuses, control panels, and structural supports. They provide insulation – both thermal and electrical – for motors, generators, switchgear, wedges, brush holders, fuse cartridges, etc.
Both Stacey and Egan believe that Accurate Plastics has several advantages over the competition. "We differentiate ourselves in terms of quality, tolerance, and performance," says Stacey. Egan adds, "Every time we have a vendor meeting, and they show us a performance chart, we're in the A+ category in terms of performance, our materials meeting specifications, and in terms of delivery. What's fascinating about Accurate is that we were founded as a distributor and we never lost that mindset. We build to stock, which means that more than almost any other manufacturer in our industry, we're able to hit on-time and on-spec performance. We aren't up against a production deadline because we already have stuff that we know is really good. We aren't digging out from a pile of orders that we're unable to fulfill and we're actually exceeding their targets when it comes to performance. So, they don't hesitate when the question comes up: 'Can Accurate handle this order?' The answer is always 'Yes.'"
"We've earned compliments with respect to the quality of our products," Stacey adds. "The company motto: 'You know it's right when it's Accurate,' means something in many regards because our properties are correct, and our tolerances are correct. For example, when aerospace calls, they want to have certain flow characteristics, resin context, and content; they want to have certain substrates that are used. So, this is design to order. This is tailor-made stuff. It's like a fitting for a suit; it's not off the rack stuff. And we've always said that we're the company that has its promise makers and its promise keepers. So, service is a big component, too. We make sure that we try to fulfill orders in a timely manner. We build to inventory and ship from inventory, very often. We ship orders same day or next day, depending on the time of the day the order's placed. We have a good team."
Egan, who just took over daily operations of the company this past August, reports that his focus is on standardizing and improving production in order "to do what we do best, even better. We stock to order quite a bit, and we view that as a competitive advantage," he shares. "I think we can extend that advantage even further by making our lead times even shorter on true, built-to-order parts."
Stacey wants to see Accurate Plastics as "the company that's easiest to deal with by any customer on any level," and one that continues to inspire its employees. He also envisions a new line of pre-impregnated products and hopes to utilize the newest of the company's three production lines to grow its presence in the pre-impregnated composites market. (Pre-impregnated composite fibers are those that have a thermoset polymer matrix material, such as epoxy, or a thermoplastic resin, that is already present. The fibers often take the form of a weave and the matrix is used to bond them together and to other components during manufacture. The thermoset matrix is only partially cured to allow easy handling. Pre-preg also allows one to impregnate a bulk amount of fiber and then store it in a cooled area for an extended period of time to cure later.)
Performance, quality, service, and value are hallmarks of Accurate Plastics. It's Acculam thermoset laminate products have taken their place in markets spanning six continents and have earned world-class recognition and acceptance as the best, consistently proving the motto: "You know it's right when it's Accurate."
AT A GLANCE
WHO: Accurate Plastics, Inc.
WHAT: A manufacturer of high performance thermoset industrial laminates
WHERE: Yonkers, New York
WEBSITE: www.acculam.com
Carolina Technical Fabrics – www.carolinatechnicalfabrics.com
Carolina Technical Fabrics is a fully integrated, modern textile plant including yarn preparation, weaving and finishing, allowing us to control both cost and quality, with the flexibility to customize the products to specific customer requirements. From technical support to product availability; from quality to consistency; from cost competitiveness to application performance you can count on Carolina Technical Fabrics and the CTF™ Brand.