Assay Technology
leading chemical monitoring solutions
Innovative and forward-thinking; Assay Technology provides the industry monitoring standard
Assay Technology is one of the leading providers of personal monitoring for chemical exposure in the market today. It designs, manufactures, and distributes devices that measure the time-weighted average exposure of individuals to chemicals of all types. The data that is produced can be read by Assay Technology or other laboratories and provided to individuals and their employers.
These devices help employers measure the risk of their team members so they can make smart decisions on scheduling, access, and safety. Assay Technology products are monitoring badges that individuals wear while in the workplace. The badges do not prevent them from managing or completing any of their job responsibilities. Assay is the market leader in providing this type of unique technology, according to its Founder, CEO, and Chief Technical Officer Dr. Charles (Gus) Manning.
"It's a badge that you literally wear on your lapel," says Manning. "It contains a mechanism that collects the air in the worker's personal breathing zone." The badges are sold as Assay- labeled devices and as private label products that other companies can brand.
Badges are used for outdoor functionality as well. "They are in use in businesses and in 'built' environments around the world," Manning says. Built environments touch all aspects of our lives. According to the EPA, they encompass the buildings that people live in, the distribution systems that provide water and electricity, and the roads, bridges, and transportation systems people use to get from place to place.
Assay Technology also provides data monitoring services that can read the data and help customers make sense of it, Manning adds.
Since Assay's inception in 1981, Manning has focused on developing Assay's personal monitoring badges and supporting them with business strategies. After 2004, with the acquisition of the Miller-Nelson Atmosphere Generator and Respirator Lab, the company became more involved with the testing of  respirators (i.e. gas masks) as well.
Assay maintains a team capable of addressing the most unique problems in atmosphere generation. Its chemical capacity testing and atmosphere generators business continues to expand because of that expertise.
Today Assay maintains an active interest in mergers and acquisitions with synergistic partners in chemically related businesses, especially owner-operated or employee-owned firms.
Assay's clients include some of the largest companies in the world. Examples include 3M,Meta Platforms (Facebook), General Electric, oil producers like Chevron, ExxonMobil, Arco, and insurance companies like Travelers, Liberty Mutual, and Chubb. Hospitals are another major industry that is covered, given the high number of chemicals and specialized medicines used in that field. Large laboratories need to measure employee exposure to chemicals in a variety of industries.
Finally, safety and health consultants are regular customers as well. Those organizations along with many of the laboratories that are customers will provide the monitoring and measuring services but rely on Assay's personal monitoring badges for acquiring the readings.
Building a brand and global following
According to Manning, it took many years for Assay to gain the market share it now enjoys. Exposure to chemicals began to get more attention in the 1970s as oil spills and other energy disasters became more commonplace, so when he helped to form the business in 1981, interest in this type of monitoring was significant. However, much of Assay's competition for the monitoring side of the business in the early years consisted of larger, bulkier devices.
The personal monitoring badges offered by Assay on the other hand weigh only a couple of ounces. It was hard for many potential customers in the market to understand that despite its small size, the Assay badges were even more reliable than other devices.
Says Manning, "It took us about 20 years to convince the market that we offered the same level of quality and durability as other products. When using our badge, worker behavior is not affected. They work in a normal fashion forgetting they are even wearing the badge." This is an important point because it prevents the employee from adjusting the environment around them in a way that results in unrepresentative readings.
Ongoing investments into the business
Assay believes in upgrading its infrastructure with new investments to address client needs. One of its fastest growing areas is the built environment because the opportunities for work are endless, Manning says. Companies that concentrate on products and services to support indoor air quality are a particular target because Assay's product line meets many of their needs. That includes air samplers, lab services, and respirator testing.
As demand grows, Assay is addressing needs by expanding its workforce and footprint. The company will be expanding its facilities in the city of Boardman, Ohio  in the next two years, and opened a facility in Raleigh, NC as well.
Hiring could be a challenge if recent history is a guide. The national labor shortage has made it difficult for Assay to find qualified candidates for many of its open positions. The good news is that because of its status as an employee-owned company, or ESOP, Assay has benefited from the retention of high-performing employees.
"Recruiting has been harder than you would think," Manning says. "Finding the right candidates has been tough (since the pandemic)."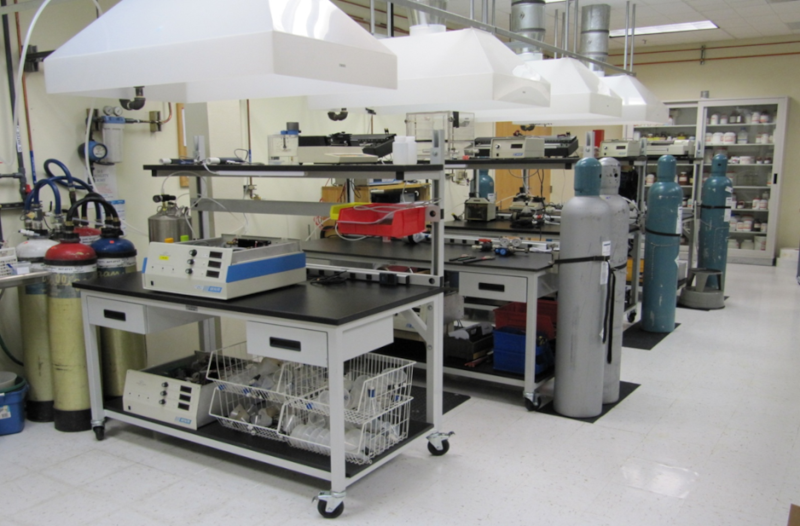 Growth supported by the ESOP model
Manning became interested in the ESOP model in the late 1990s when he began to look at a succession plan for the company. He had partnered with about 30 outside investors in the early 1980s to get the funding needed to build and maintain Assay during its early years of research and development.
The decision was made for Manning and his investors to begin distributing company stock to employees in 1997. By 2010 Assay had become a 100 percent employee-owned company. It was a great financial decision for all parties because Manning and the investors received a return on investment, and allowed employees to gain a financial and management stake in the firm.
Manning continues to serve as Assay's chief executive "at the pleasure of the employees" and is amazed at how well the ESOP relationship has worked. Team members see their ownership accounts grow every year, allowing many to consider an earlier retirement. The average employee will earn profit-sharing dollars in their ESOP plan which equates to around 20 percent of their salary each year. That doesn't include the company-sponsored 401K accounts and matches, and year-end bonuses that Assay offers as well.
"It's a nice setup because our employees generally will earn income from three different sources annually," Manning says.
Assay has been growing its revenue at about a 15 percent annual rate over the last few years, and 2023 is looking strong as well. That level of growth has not always been the case, Manning
says, but the ESOP model thrives on consistent growth, even if it is slow. He estimates that the median ESOP account value of team members is around $250,000. About one-quarter of his staff have ESOP accounts worth more than $500,000.
Employee ownership contributes to high company morale, and employees also make daily decisions that benefit the company, because they have "skin in the game". Manning compares the relationship of being an owner at the company you work for to owning your one home compared to renting.
"Our employees treat the company's money as if it is their own," Manning says. "For example, if we consider purchasing a new piece of expensive equipment, the team may  consider whether they can use existing or repurposed  equipment. Many employees know the company, its vendors, and its employees pretty well. Everyone is thinking like an owner all the time, which benefits us all.
Tips for implementing a successful ESOP
Manning says there are several requirements that companies considering the ESOP model need to understand.
First, cash flow is critical. Without consistent cash flow, ESOP accounts can't be funded, and employee morale can sour.
Second, companies can't be too capital-intensive. High expenses can torpedo profitability and the cashflow needed to fund ESOP accounts.
Lastly, employees must be an important strategic factor in the business itself. That is, high-functioning employees must be a requirement for company success.
"If your company matches these requirements, chances for an ESOP success are good, and you are likely to attract employees who are committed and engaged in their job," Manning concludes.
AT A GLANCE
Assay Technology
What: Leading chemical monitoring company with leading industry standards
Where: Livermore, California
Website: https://www.assaytech.com/
Ventura Trust – https://www.venturaesop.com/
Ventura Trust is the premier provider of ESOP trustee services, offering the resources of a large institutional trustee with flexible, responsive and high-quality personal services, while developing long-term relationships. If you are ready to explore how an ESOP can help you with your succession planning strategy, then our team is ready to provide personalized service to meet the unique needs of your business.