Goodman Networks
A made in America success story
Business View Magazine interviews representatives of Goodman Networks for our series on Technology and the Telecommunications sector
With thousands of highly trained, talented and trusted technicians, Goodman Networks is the go-to service provider when it comes to managing regional and national installation and maintenance programs for network operators, e-retailers and electronics manufacturers. Since its inception in the year 2000, Goodman Networks has continued working diligently to fulfill it's vision – to be the premier Field Services company in North America providing technology-enabled, unified delivery and service solutions for consumer and commercial customers.
Scott Pickett, Executive Vice President of Business Development for Goodman Networks shares the company's fascinating history: "It's a really cool, 'made in America' story. There were five brothers in the Goodman family who finished college and started working in telecommunications as technicians at some of the major providers. They came from humble beginnings in the very small town of Frisco, Texas and decided to start their own business. Among the five of them, they managed to put together $20,000 and some credit cards for working capital. John Goodman, our Chairman and CEO, started it in the second bedroom of his apartment. Of course, their wives all thought they were crazy at the time for leaving completely good jobs."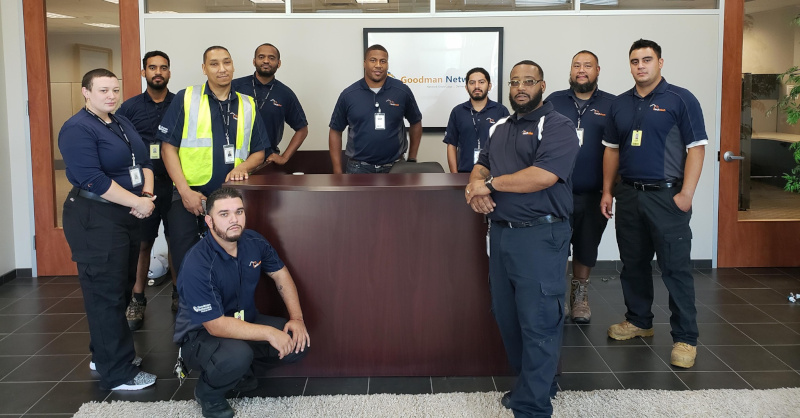 The company centered around serving a niche market, as DSL was really rolling out in the U.S. They believed that with technology changes, they could bring on a lot of tech graduate students and create a low cost model and a really good work force. The firm was successful at that, and has been serving telecommunication carriers, including AT&T, T-Mobile, and Verizon, ever since. By 2012, Goodman Networks was at $1.2 billion in revenue and 5,000 employees. According to Pickett, "We had a bump in 2016/17 and then we worked on reinventing the company. We've become very good at recruiting and training and developing technicians, so today we provide field services and technicians to the consumer electronics industry, as well. We work with quite a few appliance manufacturers, such as LG, where our technicians go into the home and actually repair those appliances. We're really pleased with the diversification we've achieved and the amazing partnerships we've developed."
Goodman Networks has about 2000 employees in total. Being a field services company, some of their technicians are trained and recruited and equipped with tools and equipment to do telecommunications – wireless networks, such as 5G. Another group has been trained on appliance repair. The service area covers about 82 percent of the U.S. population with Goodman Networks W2 technicians in satellite offices across the nation. In many instances, technicians start their day picking up the equipment from customers, and sometimes they work from the customers' own facilities.
The firm's revenue generation is focused on diverse service sectors. The oldest is 5G wireless because the company started in telecommunications. The newer sectors are IoT and home electronics installation and appliance repair. An important value proposition that sets Goodman Networks apart is the company's great consistent outcomes, for example, its start ratings on Amazon average 4.93 for the value of customer experience. Also, the training they do with technicians and their mature processing systems around logistics and technician development –  often achieving resolution in one trip. Equally important is scale. For major client companies, it's expensive and very manual working with a fragmented marketplace of individuals or small companies who do the work. But when you can hire one company that covers a huge percentage of your needs, geographically, it is much more cost effective, there is a much more consistent outcome, and you're more programmatic in the approach, rather than manually on a transaction by transaction basis.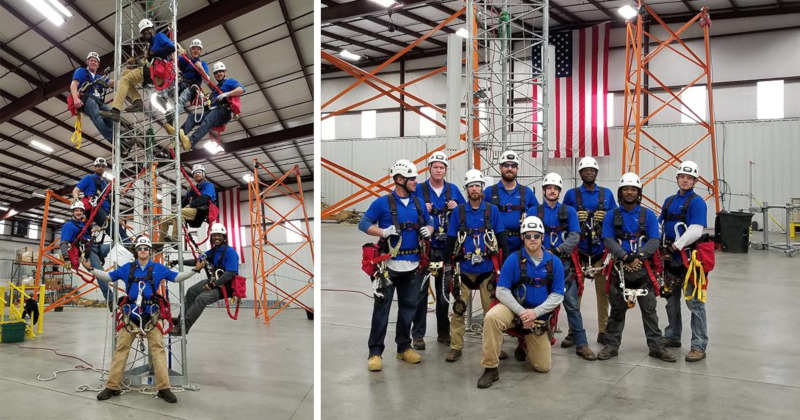 In the telecommunication industry, business is predominantly relationship-based. Goodman Networks has worked with a lot of companies long-term and their brand is well known. In newer industries, like consumer electronics, Pickett notes, "It's more about getting your toe in the door. And then proving yourself and working those outcomes you get for their customers into more senior relationships, in order to get a larger percentage of the work."
James Wise Executive Vice President of Infrastructure Services, adds, "We like to have a small stable of really good Fortune 500 type customers, where we perform at a high level for a competitive price and build customer relationships. And that begets more work. We also have an excellent sales and marketing team that goes out and mines for additional opportunities. For recruitment of skilled workers, we source from three avenues. One, we have a mature and well developed recruiting team with NHR; a small army of people that scours all the usual places to find qualified employees. With some job scopes, we engage outside recruiting firms to help us. A big part of our business I call 'build instead of buy.' We bring in green, inexperienced people and run them through our fantastic training program and develop them to the point where they can get out in the field. Next, we partner them with very experienced technicians for anywhere from one to three months for on the job training. And then they're out in the field producing revenue in a safe way."
Because the wireless telecommunications technicians are higher paid jobs, the company can afford to start their lower paid technicians on a promising career path. That adds a lot of value for workers – they can come into a company that will invest in them at an entry level position, and give them the opportunity to move up to the next skill level. Thus being more valuable and marketable to the business, its customers, and themselves. Goodman Networks is continuing to grow its logistic capability because the companies they deal with want to ensure that the technician providing the service is outfitted with everything they need to get first-time completion of the job. It creates a better customer experience and is less expensive. The goal as they expand and add more cities to their footprint is to beef up that logistics piece.
Looking to the future, Wise acknowledges, "I've been in the wireless industry for 25 years and it has changed dramatically since I started. My view is that we're on the leading edge of the next industrial revolution. I believe that 5G is going to change the world the way locomotives and electricity did. With electric vehicles, in the medical arena – there are endless ways that 5G data with low latency is going to be used. So, we are aggressively moving into 5G small cell deployment because we see that as the future. I've seen estimates in the tens of millions of small cells that will be deployed over the next five to ten years. It's going to take a lot of densification work to be able to serve the customers and there's a huge opportunity in this, for us, as we go into the future."
The Goodman Networks team has been trusted by the largest communication companies in the U.S. to provide project management, site searches, engineering, construction, integration and logistics in support of networks nationwide. Their dedicated tower crews and cell site technicians support a range of wireless infrastructure programs, self-performing in 25 states across the eastern half of the country. Supported by mature and highly effective support operation groups, Goodman Networks employees deliver some of the best safety, quality and on-time performance metrics in the industry. As a result, they have become highly proficient at exceeding customer expectations in complex, multi-technology and multi-vendor environments across large geographies.
Summing it up well, Wise remarks, "The highlight here is a business founded in an apartment that has evolved into a conglomerate servicing multiple industries with huge growth potential across a wide portfolio of business lines. A company that is well capitalized and well run with a great deal of scale and experience in providing local technician services to a wide range of industry. They pride themselves on developing the skills, confidence, and customer service that companies are looking for and that will continue well into the future."
A History of Success
Goodman Networks was founded in 2000 by five Goodman brothers. Each brother was an experienced telecommunications professional with a passion for delivering a white glove experience with every job completed. From our inception to 2006, we focused on technician- based solutions serving both wireline and wireless carriers.
2006
Our team's commitment to quality and customer service helped propel Goodman Networks to over $100M in revenue.
2007
We expanded our offerings to include wireless cell site construction services.
2011
Our quality, customer service and on-time performance helped Goodman Networks build revenue to over $700M.
2012
Our passion for innovation led Goodman Networks to expand services in anticipation of emerging small cell and IoT technologies through M&A activity.
2014
Goodman Networks' revenue growth continued to expand, reaching $1.2B.
2016
Goodman Networks strategically decided to focus on our core field services (technician-based) capabilities to prepare the company for its next phase of growth in the support of last-mile, white-glove, technician based services for wireless and IoT technologies.
2017 – 2020
Today, Goodman Networks is organized around last-mile field services and Closed-Loop Logistics capabilities. Our services are delivered by more than 2000 technicians and an impressive electronics forward and reverse logistics operation. We serve three key industry segments: network operators, electronics retailers and electronics manufacturers.
AT A GLANCE
Goodman Networks
What: Field Services, Engineering, and Logistics company serving Network Operators, OEMs, and Electronic Retailers
Where: Headquartered in Frisco, Texas
Website: www.goodmannetworks.com