Business View Magazine interviews Nick Friedman, President of College H.U.N.K.S., as part of our focus on best practices of franchise companies.
College Hunks Hauling Junk & Moving is an international moving and junk removal company and an established, award-winning franchise business with over 100 franchises operating throughout North America. Headquartered in Tampa, Florida, "H.U.N.K.S." which stands for "Honest, Uniformed, Nice, Knowledgeable, Service," offers full-service residential and commercial local moving, junk removal, donation pickups, and labor services.
Recently, Business View Magazine spoke with Nick Friedman, College Hunks' President and Co-Founder to learn more about this successful business. The following is an edited transcript of that conversation.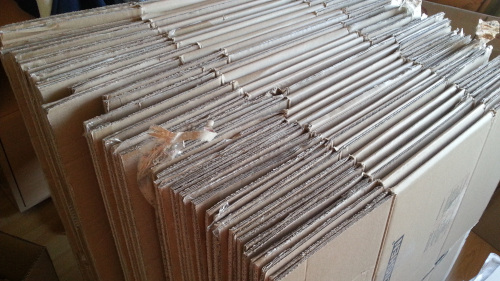 BVM: Can you talk about how the idea for the business came to you, and how you put it all together?
Friedman: "I grew up in Washington, D.C. and I was brought up to follow a more traditional career path, to get good grades, to get into a good school, to get a degree, and to climb the corporate ladder. The summer before my senior year in college, I was home for summer vacation, and my buddy from high school, Omar Soliman, approached me with a beat up cargo van that he borrowed from his mom's small furniture store in town, and he said, 'Hey, let's use the van to do some jobs and try to make some extra money.' He came up with a catchy name: College Hunks Hauling Junk. We thought it would be a cool way to make the phone ring and we put it on printed flyers, which we stuck in mailboxes around the neighborhood.
"That was the first light-bulb moment for me, because people started calling, and I realized that they had a need for the service, but they also thought the name was a catchy and quirky, tongue-in-cheek image that most people don't associate with junk haulers.
"We went back to school for our senior year in college, and Omar submitted a business plan to an entrepreneurship competition at the University of Miami in Florida. It ended up winning first prize ahead of about 150 entries. That gave us a little more confidence in the idea – a little bit more credibility for the concept. But we still graduated from college and got 'regular' jobs after school, because we weren't ready to start the business on a full scale.
"This was in 2004. About six months into the corporate world, I emailed Omar, who is now my business partner, and said, 'What's our timeline for launching this business because I'm getting kind of antsy sitting in this cubicle,' and he emailed me back in all capital letters: 'MY TIMELINE'S RIGHT NOW! LET'S DO THIS.'
"So, we quit our jobs, we went in full-time as junk haulers and movers, and were able to get our first truck and our logo and website. We were met with some skepticism; people would say, 'You're going to quit your jobs to haul junk? The company's going to be called "College Hunks"? Are you throwing away your college degree to start a trash business? You sure about that?' But we used that as motivation to keep going and keep building.
"When we first started, we were doing all the work ourselves, so were driving the truck, answering the phone, hauling the junk. We had the 800 number routed to our cell phone and people would call to complain about erratic driving from the number on the back of the truck and I'd be the one in the driver's seat apologizing from the other end, saying 'We don't condone that type of driving in our company. We'll tell the drivers to be safer when they get back to the office.' We probably fired ourselves three or four times that first year.
"We started to burn out a little bit, because there's only so much stuff that the two of us could move in a single day. One of our mentors recommended a book by Michael Gerber, called The E-Myth Revisited. That book talks about working on the business, not in the business – creating systems and processes so the business could scale. That was the next light-bulb moment for me. If we're ever going to have another truck, let alone another location, we have to document how we do things. And that's how we learned about franchising and that became our vision for the future – to perfect our model in one location and eventually franchise the model throughout the rest of the country. We felt pretty confident that we had something that could work. Fast forward to present day. We have over a hundred franchises around the country and in Canada, as well as thousands of employees, thousands of trucks, and it's turned into quite a success story."
BVM: Who are your clients?
Friedman: "About 80 percent of our business is residential homeowners – single family dwellings or condos or apartments. We provide local moving services, as well as junk hauling and removal services. About 20 percent of our business is commercial or corporate. For example, we're doing a lot of hurricane cleanup, right now, in Florida and Texas, for municipalities and large businesses that have debris or damage that needs to be cleared away or moved into storage. We partnered with some of the disaster restoration companies in that process. We do a lot of work with real estate agencies, property management firms, office managers, contractors, and assisted living facilities."
BVM: Who are your franchisees?
Friedman: Our franchise profile is pretty widespread. We have some that are husband and wife teams; we have about a dozen military veterans that own a franchise who are phenomenal in this business because they can execute a game plan and manage a millennial workforce; some retirees who are looking at this as an opportunity to mentor their employee base; and we do have some recent college grads who are very successful with the business model. Maybe a family member has helped them get into the business through the investment side of things and then they run it as the owner/manager. They've done very well because they've got the energy and the brand alignment with the way we've positioned it, so they can operate and work in it, if need be. We describe our franchisees as the 'professors' or the 'coaches' that are hiring the college guys or recent grads to do the heavy lifting.
"So, we have expanded the niche, but the name and labor force is still, primarily, college students. We do employ quite a few Millennials, and we say that we don't just hire movers and haulers, we hire tomorrow's leaders that are going to put a clean, collegiate image and a professionalized experience to something that's not typically a glorious or glamorous industry."
BVM: How do you support your franchisees?
Friedman: "Our top priority is helping our franchise owners grow their revenues, profits, and their satisfaction. With the franchise investment, we provide a week-long training at our home office in Tampa. We also provide a field visit within their first three months of opening with onsite coaching. We have a set of business consultants, or coaches, that provide ongoing telephone support. We do webinars; we do conference calls; we've created mastermind groups; we do an annual conference in Tampa that we call our 'College Reunion'; we bring in guest speakers and roll out new programs for the franchise owners; we do profitability coaching, marketing and sales coaching, and best practices; and then we also provide an inbound call center that books all the appointments for the franchisees so they don't have to answer the phone – they can focus on hiring and managing their crews and developing relationships in their community.
"That call center is a great resource for the franchise owners. We also launched a bookkeeping service, as well, because no business owner likes to keep their books straight; they'd rather focus on more high-value activities. So, by taking that off their plate, our franchise owners can see their numbers and make decisions without having to count everything themselves, which takes them away from valuable time building the business. We like to say that they're in business for themselves, but not by themselves."
BVM: How does College Hunks differentiate itself from the many other moving companies out there?
Friedman: "There is a lot of competition, because there are not a lot of barriers to entry, but we don't really worry about the competition. Anybody can go out and get a truck and a logo and website and they're, potentially, in business. That being said, there's a lot of mediocrity and a lot of fragmentation in the industry. Most movers and moving experiences don't come with a positive reputation and when you're hiring a company, the two most important emotions that matter to the consumer are: trust and care. That's what we deliver for our client base. Clients have compared our moving experience to a "Disney-like" experience, and usually moving and Disney are not used in the same sentence.
"Also, there are a couple of other franchise concepts out there – some that offer the moving service, some that offer junk removal. We are the only one that has bundled those two services in a single franchise opportunity. So, our franchisees have a dual income stream opportunity between the junk removal services as well as the local moving. We feel like those complement one another. Usually, when people move, they also have junk that they need to get rid of. It's like ordering french fries with your hamburger."
BVM: Anything new happening in the business that you'd like our readers to know about?
Friedman: "We just acquired a brand new state-of-the-art facility – 50,000 square feet for our national call center and our corporate headquarters in Tampa. That's a big investment in the future, because we're growing into it and we're growing quickly. We also formed a partnership with a national non-profit called Feeding Children Everywhere. We've aligned our brand with them and we're going to donate two meals for every completed job, with the goal of donating over 1 Million Meals during the first 3 years of the partnership. We pride ourselves on being a purpose driven, values-based, socially conscious organization. We also invest heavily in technology, and we are a truly tech-enabled company. We feel that those three things are going to generate the platform for staying in the forefront as the cutting-edge brand in this industry."
BVM: Where do you see the business, say, five years up the road?
Friedman: "We're going to grow more in these next five years than we did in our first twelve. I would say that we'll go from 100 franchises to over 200 franchisees and over $200 million in system-wide annual revenues with our franchisees each averaging at least one-million per franchise in top line sales and that our franchisees will be satisfied, fulfilled, and profitable. In the future we may also start to explore brand and service extensions like storage services, and long distance moving. Once we have a full-on, North American network, we can leverage it for long distance moving. Our brand has started to become somewhat iconic and recognizable in the service sector and we want to really stand out in the crowded landscape as a world-class culture, service, and as an inspirational example of the American Dream in the next five years, as well."
BVM: Any final thoughts?
Friedman: "For us, it's not just about moving stuff, or hauling junk. We're helping free people from the stress associated with clutter or transition. Moving is number three next to death and divorce as the most stressful time in somebody's life and we have the opportunity to remove that stress. Clutter has been shown to create anxiety as it piles up in people's living areas. You see the relief on people's faces when we remove it. So, we define our company purpose: 'To Move the World.' And that doesn't just mean moving people's stuff, literally, but moving people emotionally. That's why our amazing team members and franchise owners get out of bed in the morning.
"And we achieve our purpose by living by our four Core Values: Building Leaders; Always Branding; Listen Fulfill Delight; and Create a Fun and Enthusiastic Team Environment. Living our Purpose, our Values, and our Brand Promise has been the key to our business continuing to flourish and evolve. We feel that if we do that consistently, we're going to continue creating an amazing culture that people want to be a part of; we're going to continue delivering an amazing service experience that people will tell their friends and neighbors about, we will continue to attract amazing Franchise Owners to join the organization, and, ultimately, the business will continue to be profitable and grow."
AT A GLANCE
WHO: College H.U.N.K.S. Hauling Junk & Moving
WHAT: A moving and storage franchise company
WHERE: Headquarters in Tampa, Florida
WEBSITE: www.collegehunkshaulingjunk.com