Lower Providence Township
Where collaboration meets progress
Business View Magazine interviews representatives of Lower Providence Township for our focus on Infrastructure & Economic Development in U.S. Cities
Lower Providence Township is a forward-thinking community with an ideal location in south central Montgomery County, Pennsylvania. Only 17 miles from the City of Philadelphia, and with easy access to the Pennsylvania Turnpike, Schuylkill Expressway, Interstate 476, and the Route 202 and Route 422 corridors, the community of almost 27,000 is ready for future growth and opportunity. Its trails, parks and open spaces offer opportunities to enjoy the Township's variety of natural landscapes. Encompassing the villages of Audubon, Collegeville, Trooper, Eagleville, Yerkes, and Evansburg, the township is rich with history, while also progressively building a sustainable future for those who call Lower Providence home.
With a full gamut of municipal services including a state-level fully accredited police department, a certified volunteer fire department, and a private local EMS, Township Manager E.J. Mentry says, "We're here to work for our residents and to provide stellar services."
"The municipality itself employs 62 full-time employees, with plans to add a few more over the coming months." Mentry adds, "We have a strong team and we're continuing to build to be responsive and efficient in our service delivery, with a focus on future sustainability and resilience."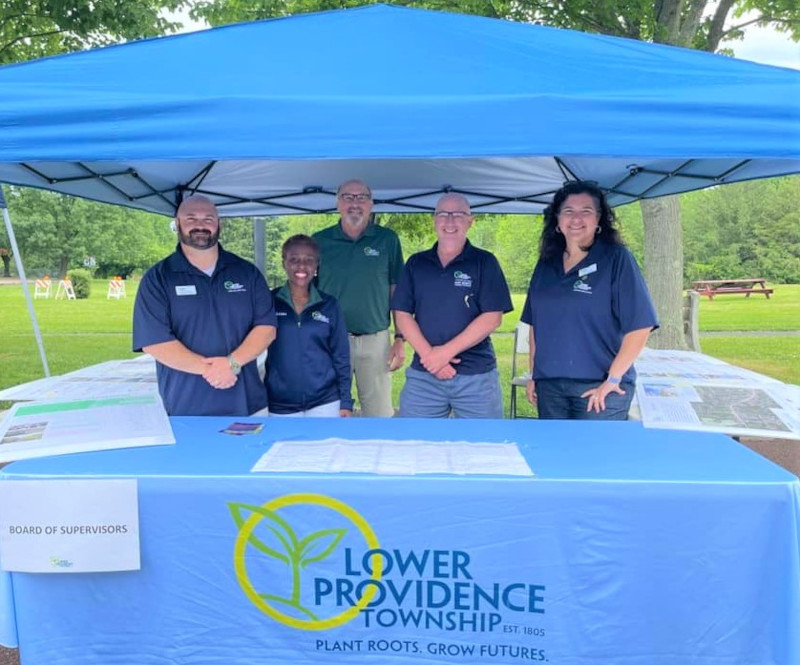 He adds that Lower Providence is home to the award-winning Methacton School District which serves the township and the neighboring community of Worcester. "We have a great working relationship with the school district. A lot of their properties are located in the township and so with any major construction or new initiatives, there's always collaboration whenever possible with them," he reports.
The Township offers working professionals a diverse and growing housing stock with a current inventory of over 7000 residential units, with single-family and multifamily options. Two new residential communities are in the works, with one under development and one planned to break ground in 2023. Plans for a significant mixed-use development are also underway to feature restaurants and commercial offerings on the ground level and apartments above.
"These developments kick-started our electric car infrastructure," notes Board of Supervisors Chair Gary Neights. "We worked with the developers to have them all economically wired to support future installation of level two charging stations in the garage. This is common-sense future-proofing that will help will help keep Lower Providence ahead of the curve as automobile manufacturers move to EV power. "
Neights pointed out that the Township works collaboratively with developers to continue to move toward a connected, livable and green community of the future that respects its past. For example, a proposed redevelopment project will improve and preserve the community's historic landmark, St. Gabriel's Hall, while supporting additional housing and park development.
"It's a prominent, wonderful historic building surrounded by Valley Forge National Park and the John James Audubon Center. Bikeable and walkable, it is situated at the confluence of the Schuylkill River rails-to-trail system, the Perkiomen rails-to-trail system, and the Audubon Center Loop Trail,"' Neights shares. "This location is served via nearby access points to the Perkiomen Creek Water Trail and Schuylkill River Water trails which provide nearly 100 miles of inland boating."
Additionally, the first leg of the National 9/11 Memorial Trail will break ground soon in conjunction with expansion work on an adjacent 500-unit retirement facility in the Township. The trail links New York City, Pittsburgh, Washington DC, and Philadelphia, linking up with the Schuylkill River Trail and Valley Forge Park.
On the workforce side, the corporate headquarters of several major companies are located in Lower Providence, including Streamlight, an international manufacturer of flashlights for police and military applications, PJM Interconnection, CertaPro Paints, and J.P. Mascaro and Sons, a fully integrated solid waste management company. Encompass Health recently announced an investment of $55 million to bring a 50-bed rehab hospital to the Township's Park Pointe business park, which is also home to several bio-medical companies such as Almac Pharma Services and Airos Medical, Inc.
Lower Providence is also the home of IBEW's Southeast Pennsylvania Regional solar and electrical training program. Recently, Brightview, the nation's leading commercial landscape company, chose Lower Providence for a pilot project for a solar-powered commercial vehicle charging complex, the first stage in their rollout to hundreds of sites across the country. Lower Providence is proud to be a part of helping businesses transform to new energy sources. The diverse array of corporate entities located in the Township, combined with the strong current and future housing stock, make Lower Providence a highly desirable location for working professionals and businesses alike.
In terms of transportation infrastructure, Lower Providence has fast access to recently rebuilt, high-speed highways and 25% of the United States population can be reached within 5 hours. "There are commercial and passenger rail lines close by as well with significant expansion being planned." Neights adds.
Strong relationships with valued partners, such as Audubon Land Development, are something Lower Providence takes seriously. Mentry acknowledges, "When it comes to setting a vision for the township, and certainly infrastructure improvements and connectivity, collaboration and communication is key."
The township also works closely with Montgomery County, the Chamber of Commerce, and the Valley Forge Tourism and Convention Board. Neights said that the township is also working with its state representative to make improvements to the Ridge Pike Corridor, which is identified as a top priority in the soon-to-be finalized Comprehensive Plan update. He explains, "It's a major corridor that goes through multiple townships. Our state representative is working on collaborating across the various townships so that we can go after larger pots of money from both the state and federal government, to have a more cohesive interconnection along that corridor, and continue to improve it."
Building collaborative partnerships with neighboring municipalities is another priority for Lower Providence Township. As Mentry describes, "There is an effort to open the lines of communication and collaborate with our neighboring municipalities so that there's not this intangible wall separating us. We want to identify ways that we can collaborate and regionalize, and not duplicate services, efforts, or initiatives. At the end of the day we're still responsible for Lower Providence Township and our residents, and that's our primary goal and focus always, but we are looking to partner with our neighbors and work together to achieve some economies of scale."
Some of the possibilities for this collaboration could include sharing fire department resources and coordinating community events. "With the same amount of resources, we can support the needs and schedules of more people," says Neights.
Currently, as part of the township's sustainability efforts, Township Supervisor Dr. Janine Darby reports that Lower Providence is collaborating with surrounding municipalities on stormwater management and stream pollution efforts. In addition to addressing water quality through pollution reduction efforts, the Township is also focusing on drainage and flooding issues by allocating additional funding for stormwater infrastructure projects.
As the township finishes the final stages of an update to its Comprehensive Plan, Mentry expects the coming years will see Lower Providence implementing initiatives for future land use, for expansion of its already diverse employment opportunities, and for transportation improvements, all with a focus on environmental and sustainability options. "We will now have a formal plan to utilize which will help us obtain grant funding and partnerships," he says.
As for what's next, Mentry hopes to see a review of the property that currently houses the municipal building, which is also the location of the police station, the library, EMS facility, and a large park. "One of our priorities is not just limiting our scope to what building needs we have because the building is in need of an update or more space, but to re-envision the full campus and provide a responsible and state-of-the-art facility for township operations that incorporates a lot of our sustainability and green infrastructure goals." Adding that the operations side of the township is undergoing some staffing transitions, Mentry believes Lower Providence will have a strong team to carry them into the future.
As a final thought, he adds, "We are setting ourselves up for success, and it's a really exciting time to live in Lower Providence, and from my perspective to work for Lower Providence. It's a really exciting time."
AT A GLANCE
Lower Providence Township
What: A progressive township 17 miles from Philadelphia
Where: Montgomery County, Pennsylvania
Website: www.lowerprovidence.org